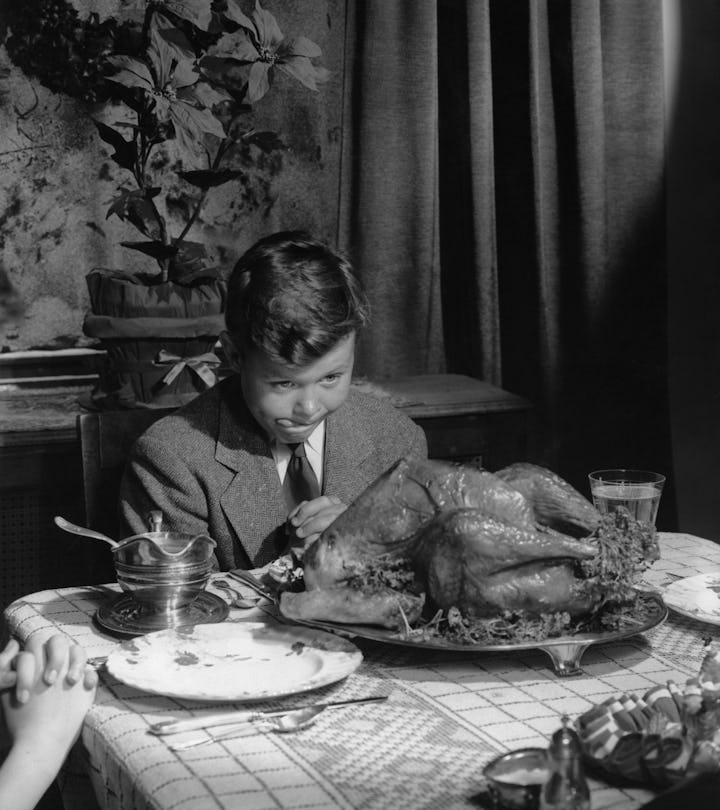 Camerique/Archive Photos/Getty Images
20 Thanksgiving Quotes That Capture The Spirit Of Gratitude
None of them mention cranberry sauce from a can. Sadly.
The Thanksgiving holiday can summon a variety of emotions in all of us. It can conjure memories both happy and sad: Kids eating pie for the first time, or kids throwing up from too much pie. Or, memories funny and furious: Aunt Kendra taking her wig off at dinner, or Aunt Kendra insulting your husband at dinner. This list of Thanksgiving quotes captures the vibe of Turkey Day but, beyond that, they are are kind of a mixed bag. Some quotes are wise words on thankfulness, some are silly musings on gravy, and some are just expressing warm, cozy thoughts of togetherness.
Thanksgiving is kind of a quiet holiday in some regards, which is what many of us cherish about it. It doesn't have the inflatable costumes and candy of Halloween, or the piles of presents and decorations of Christmas. But, it can also feel louder in some ways, in that for many of us the day can be a swirl of cooking, kid chaos, and carefully side-stepping conversation landmines with certain relatives. Whatever your Thanksgiving Day is usually like, these quotes from comedians, authors, philosophers and others will help to get you in the spirit of things, and serve to remind us all what the day is truly about: Gratitude.
Hopefully these powerful Thanksgiving quotes will help you stay grounded on a day that can be chaotic. Happy Thanksgiving!
This article was originally published on