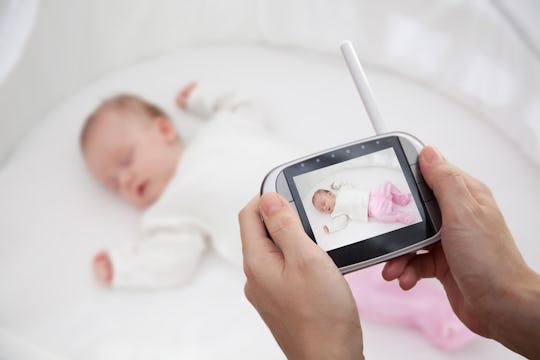 Vladimir Badaev / Shutterstock
The Best Baby Monitors Without Wi-Fi To Keep Your Baby Safe & Secure
Say goodbye to privacy concerns.
We may receive a portion of sales if you purchase a product through a link in this article.
Long gone are the days of sneaking into your child's room to check up on them as they sleep; baby monitors are loaded with features that let you keep tabs on your little one from the next room, even on different floors of the house. But while some baby monitors can connect to Wi-Fi, many parents know that the best baby monitors without Wi-Fi have a lot to offer. Non-Wi-Fi monitors tend to be more dependable, and they don't have the same security concerns as Wi-Fi-enabled devices.
What To Consider When Shopping For Baby Monitors Without Wi-Fi
Buying a baby monitor can be overwhelming; there are so many options to choose from and they all look pretty similar. To help you pick the best one for your family, consider these factors:
Screen Capabilities
If you want to be able to see your child in their crib, then getting a monitor with a video screen is a given — but you'll need to think about the video capabilities you require from your monitor. Some models offer night vision so your little one is still visible in the dark. The ability to zoom and pan so you can adjust your view is another feature to look for if it matters to you. Pay attention to the screen size when purchasing, since sizes can vary — the screens on this list range from approximately 2 inches to 5 inches. If you are solely concerned with hearing your little one when they wake, you can save some money by going with an audio-only option.
Battery Life
Battery life can vary a lot between baby monitors. Every monitor on this list can plug in for charging, but parent units are designed to unplug after charging for portability, while baby units stay plugged in. Some parent units can also be used with standard batteries. Overall, using video mode will kill a battery faster than audio-only mode, so the way you use your baby monitor will affect its battery life. Ideally, monitors should last overnight on a single charge, and pricier video units or inexpensive audio-only units seem to accomplish this nicely, lasting about 8 to 24 hours between charges. Inexpensive models could claim a longer battery life, but you may find yourself plugging them in more often.
Additional Features
There are so many snazzy features to consider when purchasing a baby monitor, so prioritize the ones that are most important for your family. Do you have a large home? Pick a monitor with a good range, so it'll work in every room. Do you have multiple kids (or plan on having more in the future)? It might be a worthwhile investment to get a monitor that allows you to flip between multiple cameras. Other cool camera features include the ability to tilt or zoom, talk to the baby, monitor the room temperature, or even play soothing lullabies.
With all this in mind, here are four of the best non-Wi-Fi baby monitors — all of which are safe, dependable, and loaded with features to make caring for your little one a lot easier.
This article was originally published on