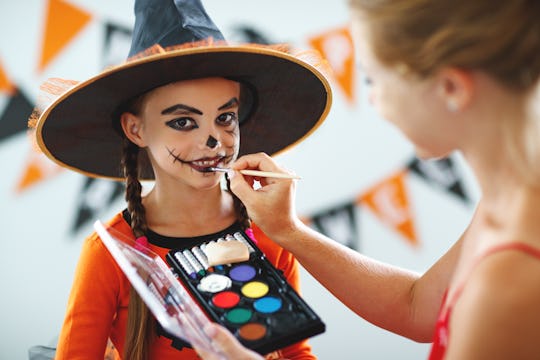 Shutterstock / Evgeny Atamanenko
The Best Halloween Face Paints For Kids
We only recommend products we love and that we think you will, too. We may receive a portion of sales from products purchased from this article, which was written by our Commerce team.
Halloween may be one of the funniest holidays for kids, but it also provides an amazing excuse for parents to unleash their creative sides. While you're deciding which costumes to purchase or put together at home, this list of best Halloween face paint kits for kids is going to come in handy. Each of the Halloween makeup kits on this list comes with lots of fun colors and contains non-toxic paints that are free from harmful chemicals.
You'll have a few different formats and features to choose from when it comes to face paint makeup. Depending on your child's costume — and your level of artistic ability — you may decide that a paint kit is needed, or opt for an easier-to-apply crayon kit. A kit that comes with stencils can make things even easier. In terms of colors, you can opt for a range of bright shades that includes basic options like white face paint, too. Metallic or glittery face paints can add some extra pizzaz, and UV neon paint options will make your child's makeup glow under a black light.
And because paint removal is just as much a concern for parents as getting a costume to look just right, the majority of these kits are made with water-based paint. This type of paint generally comes off easily with soap and water (though you may need to re-apply it after a few hours, especially if your child sweats or comes into contact with water). However, if you need a longer-lasting solution, don't worry: a top-notch oil-based face painting kit has also been included.
Finally, while most non-toxic face paints should be fine for most faces, if your child tends to experience sensitivity, you may want to look for a set of face paints that are comfortable for sensitive skin. These face paints should be free of fragrances, alcohol, and metals like nickel, lead, cobalt, and chromium, and may be labeled as FDA-compliant, hypoallergenic, and/or sensitive skin-safe.
Whether you're pulling together an adorable DIY baby Halloween costume or a cheap Halloween costume for kids that could benefit from a few creative touches, these face painting kits are safe and will make getting ready for the holiday a blast.
This article was originally published on