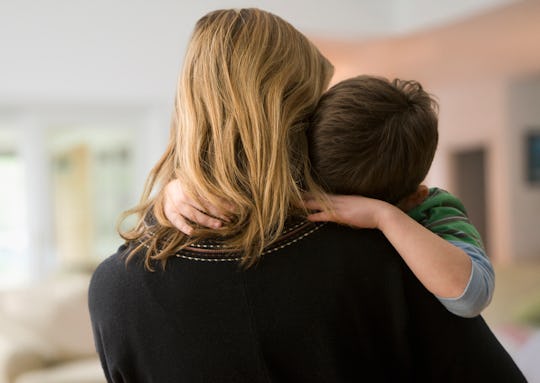 Jose Luis Pelaez Inc/DigitalVision/Getty Images
9 Things Your Mom Said When You Were Young That Caused You Long-Term Anxiety
You'll be surprised at some of them.
There's no denying that I inherited a number of traits from my mother: My fair skin. My unwavering conviction that the frosting is the most important part of the cake. And, alas, my anxiety. My mom didn't intentionally gift me with her propensity for worry, but she might have taught me unwittingly nonetheless (just like I might be teaching my kids), and my mother does trigger my anxiety. And it turns out that if your mom said certain things to you when you were young, you can probably trace your anxiety back to her, too.
What are some things your mom said that might have caused long-term anxiety?
Now, it's worth noting that probably every mom has said at least a few of the offending phrases on this list to their child or children at least a few times, if not more. Because moms are human beings who don't always have the presence of mind to consider the psychological implications of every word that comes out of their mouths. But that doesn't mean your child is doomed to a life of nail-biting and antacids, particularly if you're an otherwise reliable parent.
"Actions speak louder than words," Dana Dorfman, Ph.D., psychotherapist and co-host of the podcast 2 Moms on the Couch tells Romper.
"While words can be powerful and can engender intense feelings like anxiety in children, [a parent's] behavior can be even more impactful," she says. "A parent's role is to provide a predictable, stable and reliable environment. When mothers' behaviors are erratic and unpredictable, children become anxious, an emotional template which may expand in adulthood."
A parent's words can become problematic when they invalidate what a child is feeling, Dr. Dorfman continues. "Children rely on parents to help translate their confusing and overwhelming internal emotional experiences. When parents deny, ignore or minimize a child's feelings, the child will become anxious when they re-experience these feelings."
What are some other ways your words can make kids anxious?
Another way your words can act as anxiety transmitters is when you talk about your own stress in a non-constructive way.
"Many children are sensitive to tension and anxiety in the home," says Dr. Dorfman. When a mother can't manage her own worries, she is "likely to model and engender similar feelings in her child," putting them on track for an anxious adulthood.
Is all of this info making you even more anxious than you already were about anxiety? It might help you to know that while yes, kids of anxious parents are more likely to develop an anxiety disorder, that "trajectory toward anxiety isn't set in stone."
"Therapy and a change in parenting styles might be able to prevent kids from developing anxiety disorders," according to research published in The American Journal of Psychiatry, as reported by NPR.
So with that part about changing parenting styles in mind, here are the phrases you could try avoiding from now on. It might be too late for your mom, but at least the cycle can break with you.
Anxiety is a multi-layered condition, triggered and sustained by a variety of factors. It can be helpful to find out where it all started, even if that was with your mother.
Experts:
Dana Dorfman, Ph.D., psychotherapist
This article was originally published on