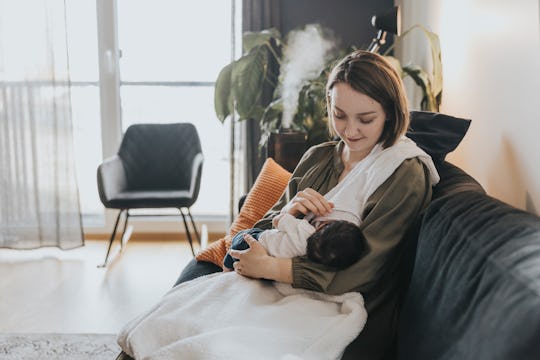 visualspace/E+/Getty Images
The Best Rated Humidifiers On Amazon At Every Price Point
Tackle seasonal allergies and colds.
A great humidifier is a parent's best friend, cutting down on colds (and the number of times you need to use a Nose Frida) and keeping babies, kids, and toddlers hydrated throughout long, dry days. To help you breathe easier, Romper has gathered some of the top-rated humidifiers Amazon has to offer at every price point. Purchasing a humidifier is the kind of simple life hack you'll never regret. You might even wonder why you never thought of it before. However, like other crucial appliances, humidifiers run the gamut from super cheap to wait, how much?
The expert
Dr. Marietta Vázquez, M.D., a professor of pediatrics at the Yale Institute for Global Health, previously spoke to Romper about how to choose the right humidifier for your baby's space.
What to consider before shopping
How can a humidifier help your baby? Essentially, humidifiers add moisture to dry air and that moisture eases coughs and respiratory symptoms. "Cool-steam humidifiers are good for infants and young children, especially during the winter months when the air is dry," Vázquez explained.
As a worried new mom, when I asked my pediatrician if the new baby would react to my old cat, she told me to get a humidifier (and then to stop worrying). Humidifiers cut down on a lot of airborne allergens, including pet dander and dust, and just generally help when you have a baby with the sniffles. "When babies have the common cold, it may help alleviate congestion," Vázquez said. And if you're wondering if you need a warm or cold-air humidifier, Vázquez recommends avoiding warm-steam models, since they are more prone to contamination by mold and fungi. Plus, there's no scalding hot water involved.
If you're looking for one for your home, here are some of the top-rated humidifiers on Amazon at every price point.
We only include products that have been independently selected by Romper's editorial team. However, we may receive a portion of sales if you purchase a product through a link in this article.
Whether you're looking for spring allergy relief or something soothing to have at home during the summer months, these humidifiers will do the trick. Your child (plus the adults at home) should be feeling better soon.
This article was originally published on