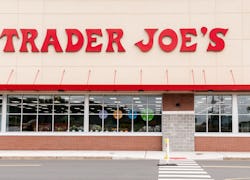 What To Know About Trader Joe's Hours On Fourth Of July
SOPA Images/LightRocket/Getty Images
Read this before heading to TJ's for those last minute charcuterie items.
There's just something special about Trader Joe's. Maybe it's all of their Hawaiian shirt-clad team members who always seem to be in a chipper and wonderful mood. Or perhaps it's all of their amazing snacks, sweets, fresh fruits and veggies, one-of-a-kind dips and sauces, and oh-so-cheap wine? Whatever the reason, everybody has to love a Trader Joe's, and what better place to shop for your fourth of July barbecue spread? If you suddenly find yourself missing an ingredient for your barbecue meal on the fourth of July, you're probably wondering what the Trader Joe's fourth of July hours are. And I hate to be the bearer of bad news, but here it is.
Trader Joe's fourth of July hours
You better grab everything you need before July 4, because per the Trader Joe's website, they will not be open their usual daily 9 a.m. to 9 p.m. we all know and love. The store will be closing early on the fourth of July, and their limited hours will be 9 a.m. to 5 p.m.
Trader Joe's fourth of July recipes
Pasta salad seems to be a classic staple for fourth of July barbecues, and Trader Joe's has a delicious Buffalo Chicken Pasta Salad recipe for you to make, and it's made from the infamous Trader Joe's Buffalo Style Chicken Dip — a fan favorite. You also can't go wrong with their Green Goddess Grilled Corn recipe, which is made from the Trader Joe's Green Goddess Salad Dressing. And you have to have grilled corn on the cob for the fourth of July, it's the law or something. This paired with the Lemony Grilled Chicken Thighs and some Fruity Frozen Yogurt Pops or Chocolate Peanut Nachos for dessert makes for an excellent fourth of July spread.
Just be sure to grab all of your ingredients for these mouth-watering recipes before the fourth of July, or at the very least, before 5 p.m. when Trader Joe's will be closing early. Happy celebrations.