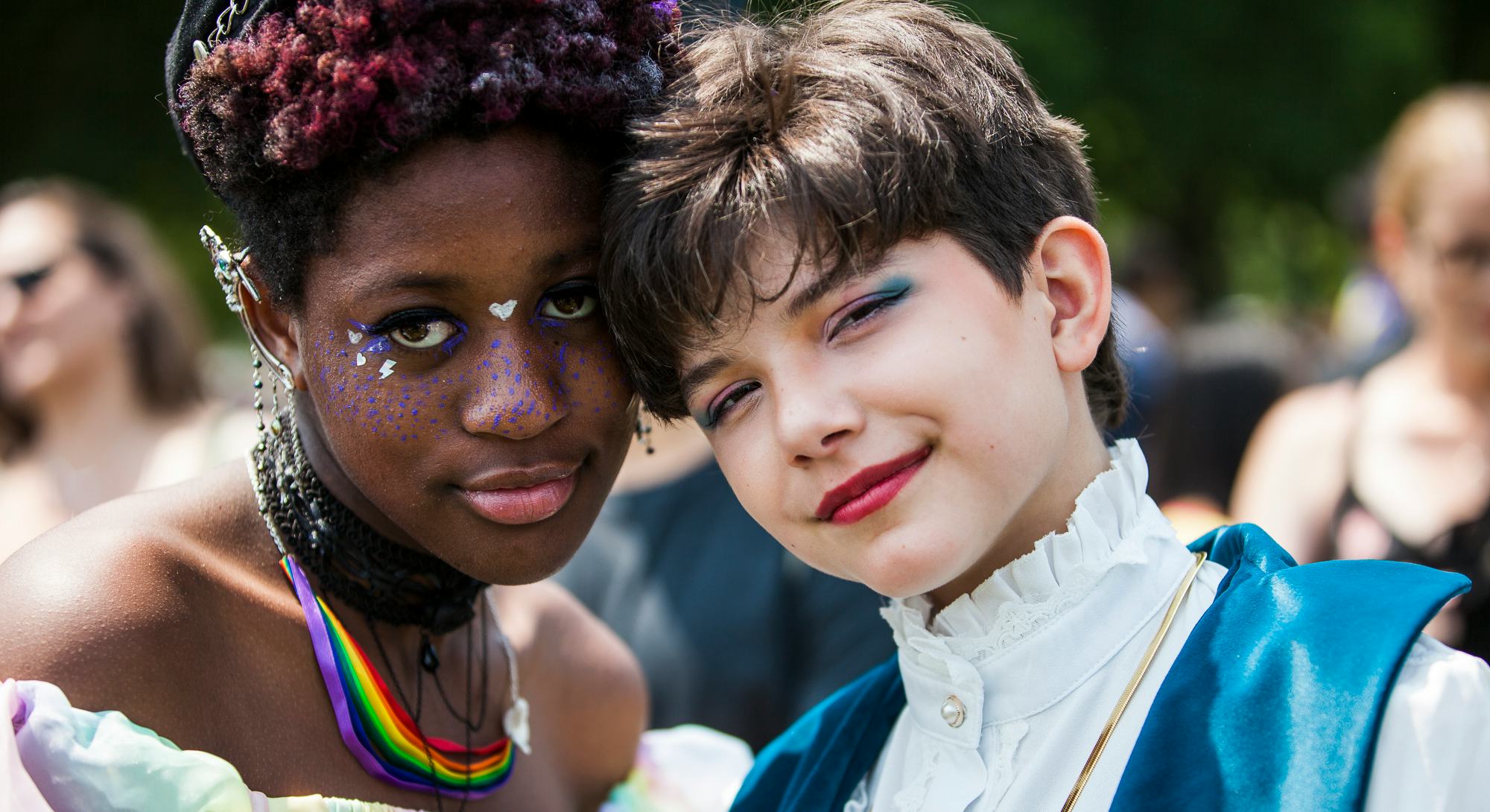 Courtesy of Kisha Bari
Joyful Photos From The First-Ever Trans Prom In Washington, D.C.
"We love who we are and it's time for kids to take back that narrative."
In the face of unprecedented legislation targeting transgender Americans, including children, it's understandable that so much coverage around trans rights takes on a negative tone. But while issues facing trans children are dire, the children in question are more than these headlines. "We are full of joy!" says Libby Gonzales, 13, of Dallas. "We are tired of being shown in media as only depressed, deprived kids. We love our lives, our communities, our families. We love who we are and it's time for kids to take back that narrative." What better way than with a Trans Prom?
The idea started when Libby and her friend Daniel Trujillo, 15, decided to turn their frustration into something positive and joyful. Grayson McFerrin-Hogan, 12, and Hobbes Chukumba, 16, came onboard as fellow steering committee members and with the help of their parents, Chase Strangio, deputy director for transgender justice at the ACLU, and activist, actress, and drag performer Peppermint (yes, Drag Race fans: that Peppermint), among others, the Trans Prom started to take shape.
From the beginning, the event was conceptualized as a way to re-center the humanity, joy, and childhood of young people who have had to become activists just to assert their right to exist. "I'd rather be doing just about anything else [than fight for my rights]!" Libby tells Romper by email. "My family uses so much time to go to the Capitol, I would really love a family vacation instead. I love traveling."
On May 22, the day finally arrived. Trans youth ranging in age from 5 to 20 and representing more than 16 states came together in Washington, D.C. to celebrate. DJ Nico, a 20-year-old international DJ and trans activist, spun off a Spotify playlist that was curated by the kids (you can, and should, listen here because it absolutely slaps). There were performances, speeches, and a parade to spread joy throughout the nation's capital.
"I feel like not only is it really important for cis-people to see trans joy, that we're just kids that just to go to prom and have fun, but it's also really important for other trans youth to see this really joyous trans space," Daniel told Romper ahead of the event. "So that they can see for themselves that they deserve to be in all spaces, that they are deserving and are capable of having and living a joyous life."
And joyous it certainly was...
Romper spoke to the four steering committee organizers, ages 12 to 16, and their parents, to understand the importance of community and public demonstrations of joy in the face of coordinated opposition.
"I love how strong my community is. Despite everything that's going on and all the ways that people are trying to hurt trans people, especially the youth, we're still here. Not only that, we're joyful! I love that we're having a party in the middle of all this mess we're dealing with. We've worked really hard to make this event happen, and hope people see us having a great time at the prom and realize that we're just kids. I really want people to just let kids be kids," Hobbes told Romper by email.
"Our community is resilient; we have all been through so much but we still celebrate. I hope we give trans kids hope." — Grayson McFerrin-Hogan, 12
"When I go to school and when I live my day-to-day life, I do not face a lot of transphobia or homophobia. Of course there's a few of my classmates who say rude things, but I can brush them off because they're not that common; I'm supported and loved by my family and my friends. When I go to testify at my state's capitol is when I start facing a wave of transphobia. I've even had some of my own senators, who claim they want do the best for me and say that they want to protect me, but are the same people who publicly misgender me and try to dead name me. But my parents do a great job in making sure that I see myself in their friends, in movies, in wherever we go. ... That's why I feel an environment like Trans Prom is really, really important," Daniel told Romper.
"It feels so exciting that we finally have a chance to tell our stories the way we want and celebrate the beauty of our community! I just want trans kids to remember that they deserve to be happy and joyful and we are going to keep pushing to create a world where that is celebrated!" — Libby Gonzales, 13
"My son is a person of incredible strength and resilience. From the moment he shared his true identity with us, he embarked on a courageous journey of self-discovery and authenticity. He has faced adversity and challenges with a determination that inspires me every day. My son's transgender identity is not a burden or something to be pitied; it is a testament to his unwavering strength and the depth of his spirit. I want the world to know that my son deserves love, acceptance, and equal rights," said Stephen, Hobbes' dad, over email. He says the community he has found in advocating for his child has been invaluable and beautiful.
"It is hard to balance shielding your child from hurt while encouraging them to advocate for themselves. I fear for my child's safety everyday. I let Grayson be who they want to be and I let them know that some people can be cruel when they see you living your best life. The world doesn't have to understand Grayson, but they need to respect them," Grayson's mom, Laura, told Romper by email.
"The first time Daniel ever went and advocated for himself he was 9 years old. He's 15 going on 16. So most of his life has been this: proving his personhood over and over and over again and explaining to people why he's deserving of full rights and protection. That was not my dream for him. I'm first generation — my family immigrated from Mexico in the '60s, and my father always said this was a country where if you work hard you can do anything. So it felt important for us to speak up as a family, to ensure he deserves every right anyone else is afforded in this country," Lizette, Daniel's mother, tells Romper. Daniel says his mother has been a vital support in his gender journey as well as Trans Prom.
"Our community has grown in the most beautiful ways since my daughter came out as trans — we have so many incredible people in this fight with us! I am only able to be the advocate I am for my daughter because of the huge number of trans adults and other parents who have been patient with me, encouraged me, and supported our family. I feel so incredibly fortunate to be surrounded by such phenomenal humans all the time! Legislators pushing anti-trans agendas don't want people to see how incredible kids like Libby are. I'm so proud of her commitment to flipping that hateful, manufactured narrative by just being herself," shared Rachel, Libby's mom. Rachel told Romper by email that finding community has been a bulwark against the "traumatizing" attacks on the rights of trans Americans by legislators.
When Romper asked organizers their hopes for the prom, everyone agreed that having a day of community and joy was incredibly important, both for participants and as a catalyst for shifted perspective. "I really hope that it helps create a world for trans people where they don't need to do this work," Daniel said, "to not have to advocate for basic human rights and dignity."