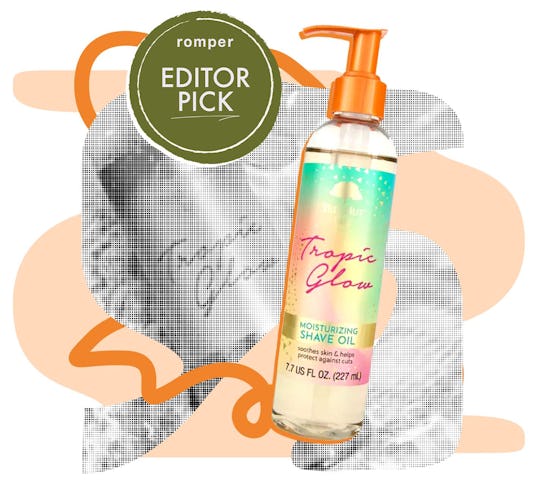 Tree Hut/Romper
The Tree Hut Shave Oil Is My Holy Grail Product For The Closest Shave
Had To Share
We may receive a portion of sales if you purchase a product through a link in this article.
Even though I know it's unattainable and probably the result of some serious photo retouching, I always find myself trying to get Barbie legs. You know how celebs on the red carpet always have the smoothest, shiniest, borderline plastic-looking gams? Yeah, those. But as someone with folliculitis — which means that anytime I shave, my hair follicles get inflamed, causing red, itchy bumps and sometimes ingrown hairs — flawless legs will never be my reality. But, with the help of the Tree Hut Bare Moisturizing Shave Oil, I can come just a little bit closer to having bump-free legs after shaving.
I'm always looking for new shaving creams and razors to try and reduce irritation while shaving. Because I live in Florida, shorts are pretty much always in season, and the red bumps (and subsequent scarring) on my legs don't do wonders for my confidence. So when I happened across the Tree Hut shave oil on a trip to Ulta, I nabbed one right away. I had never tried a shave oil before, but creams weren't doing me much good, so I thought I might as well give this one a go. That was around two years ago, and I've had a bottle of this stuff in my shower ever since.
Stats
Price: $12.99
Sizes: One size, 7.7 ounces
Scents: Moroccan rose, coconut lime, Tahitian vanilla bean, watermelon, and tropic glow (an amber and sandalwood blend)
Texture: A gel-like consistency that spreads into a thinner oil on skin
The ingredients
Tree Hut's moisturizing shave oils have a gel to oil formula that's meant to moisturize the skin and help razor blades glide as smoothly as possible while shaving. The active hydrating ingredients include shea butter, oat kernel extract, rosehip oil, Moroccan argan oil, and other natural oils, like grape and jojoba.
As for what you won't find in the oil, you can rest assured the formula is free of alcohol, parabens, sulfates, and formaldehyde donors (compounds that release a small amount of formaldehyde over time to preserve the product). It's also vegan.
The packaging
The Tree Hut Bare Moisturizing shave oils come in a slim, plastic bottle that fits easily even in showers with limited shelf space. The pump is a nice touch for easy use when juggling a razor at the same time, and helps you control the amount of product you dispense. The only downside here: The plastic pump isn't super well made, so if it falls from a shelf in your shower, it can break off (this has happened to me, unfortunately, a lot).
The scents
I haven't used all the scents this shave oil comes in, but I've tried quite a few, and I haven't found a dud yet. The coconut lime is a tropical, juicy scent I love using in the summer months. It's not overly sunscreen-y smelling, which coconut stuff can become sometimes. The Tahitian vanilla bean, on the other hand, is a warm, sultry fragrance that is perfect for fall and winter. Online, Tropic Glow has been likened to the cult favorite Sol de Janiero Brazilian Crush Cheirosa '62 Bum Bum Hair & Body Fragrance Mist. For those who aren't body spray experts, it's a blend of salted caramel, pistachio, and vanilla, and seriously just so divine.
Rose and watermelon are not really my jam, so I can't speak to their scents. They also come out with seasonal scents throughout the year that I've never tried (I'm always drawn back to the Tahitian vanilla bean). But based on the experience I have with the other three fragrances, I'd feel safe saying they probably smell fantastic, and last well on the skin after you leave the shower.
The results
After shaving with the Tree Hut shave oil, I can tell a slight difference in the closeness of the shave compared to when I use shaving cream or whatever body wash is in the shower at the time. And when you have dark hair and fair skin, a close shave matters a lot, lest your legs and armpits develop a five o'clock shadow by the next morning.
For me, the shave oil really shines at minimizing razor bumps and irritation. I don't know why exactly it works so well at being so glide-y, I just know it does, and it makes a difference for my ultra sensitive skin. I have fewer bumps and redness using this, and when I get out of the shower, my legs don't feel tight or dry. Don't get me wrong, I still slap on some Eucerin ASAP, but it's not a race against the clock.
Pros & cons
Pros
Tree Hut shave oils are vegan, sulfate-free, alcohol-free, and paraben-free.
The scent lingers on your skin, especially the Tahitian vanilla bean, in my experience.
After shaving and toweling dry, my legs don't instantly feel tight and itchy like they do after shaving with other products. Not having to dash straight for the lotion is a nice feeling.
Cons
The Tree Hut shave oil is clear. Unlike a shaving cream, you can't easily see where you've already shaved, so it takes a little extra attention.
It is heavily fragranced, which can be irritating to sensitive skin.
If the bottle falls off a shelf in the shower, the pump tends to break off easily. Of course you can still unscrew the cap and use the product, but it's less convenient for sure.
Final verdict
In the grand scheme of things, a shaving product is probably not going to change anyone's life. But, if you deal with irritation after shaving, like razor bumps, ingrowns, or scarring, you know how uncomfortable they feel, and the effect they can have on your confidence. The Tree Hut shave oil isn't specifically marketed as a product that prevents these things, but it sure works for me. And even if all you want is a shiny smooth shave, well, you can achieve it with this.
The TL;DR
Once you try this shave oil, shaving cream will immediately become a thing of your past.
Had To Share highlights the products and finds that Romper editors and contributors love so much, we just had to share in the group chat.