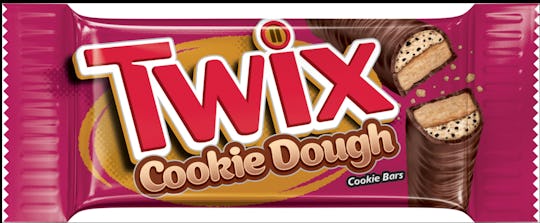 Courtesy of Mars Wrigley
This Is Not A Drill: TWIX Is Releasing A New Cookie Dough Flavor
The new flavor isn't dropping for a while, but you just might win a first bite...
There are many good reasons to love TWIX. The crispy cookie crunch. The gooey caramel. The just right amount of chocolate binding it all together. And the fact that, just when you're sad you've finished the last bite — BAM! — there's a second bar waiting for you. But are we limiting ourselves here? What if I I told you we could rebuild the classic candy? We have the technology. We can make it better than it was. Better, richer, more delicious. We could add... cookie dough. Friends, this isn't a pipe dream: it's happening. TWIX Cookie Dough is coming to stores later this year. (And don't worry: TWIX "classic" isn't going anywhere.)
The new flavor pairs the classic TWIX cookie bars with a creamy cookie dough-flavored layer (replacing the caramel we've come to know and love), all coated with milk chocolate. "TWIX Cookie Dough is the perfect mashup of two fan favorites — our classic TWIX bar and the nostalgic flavors of cookie dough — all wrapped into one," Mars Wrigley Senior Brand Director Michelle Diegnan said in a statement.
Is there a hitch? Sort of. Unfortunately, the new flavor, which will be available in Single Size (1.36 oz per bar), Share Size (2.72 oz per bar) and a Minis Stand Up Pouch (9.7 oz per pouch) will not be widely available until December. Fortunately, there's still hope for a cookie dough summer! At least for a lucky few. TWIX has announced that the brand will be giving away exclusive first taste samples to Mars candy fans in celebration of National Cookie Dough Day on Tuesday, June 21... but they'll have to be quick.
Only the first 1,000 fans to visit twix.com/cookiedough after the countdown hits zero and enter their information will receive a delicious preview of the dough confection. Truly, this competitive race to deliciousness gives a whole new meaning to "The Hunger Games." But that's the way the cookie crumbles...
Beginning June 14, fans can also visit twix.com/cookiedough to sign up for an email reminder to revisit the site on June 21 for their chance to claim their exclusive first taste. The lucky winners will receive a confirmation email letting them know when to expect their delicious prize. May the odds be ever in your f(l)avor...