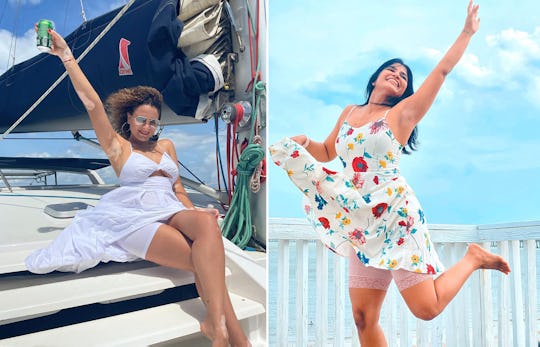 These Anti-Chafe Shorts Are Cute, Non-Constricting & $10 Off This Summer
Enter the code SUMMER10X at checkout for $10 off your order of these game-changing anti-chafe shorts.
Once the temperature hits 70 degrees, I can tell you one thing: You won't catch me in pants again until the fall. Skirts and dresses are breezier, easier to wear on hot and humid days, and are simply a cute option that vibes with my summertime style better than shorts or jeans. Of course, my preferred warm weather garb brings with it one huge issue — the dreaded thigh chafe.
We only recommend products we love and that we think you will, too. We may receive a portion of sales from products purchased from this article, which was written by our Commerce team.
As a woman blessed with thick thighs that do not lie, I've tried a lot of options to combat thigh chafing, including anti-chafe sticks and wearing biker shorts under my skirts. But those traditional solutions come with their issues. I tend to sweat away any anti-chafe stick I roll on, and a lot of biker shorts constrict my movement or feel the need to double as shapewear in a way that I find uncomfortable. And that's why I was so excited to learn about Undersummers. They're a thigh protection clothing brand that thinks differently.
What Makes Undersummers Different?
Undersummers is a women-owned small business that makes underwear that protects your legs and thighs from rubbing together. That's it! Unlike many other brands in this space, Undersummers aren't made with compression in mind, and they're not shapewear meant to change the natural look of your body. They're just a lightweight option that prevents chafing while feeling like a second skin.
One of Undersummers' most popular offerings is the "Shortlette." Made with a seam-free inner thigh design and silky, moisture-wicking fabric that keeps you cool and comfortable, the Shortlette is meant to be worn on its own, as underwear. The gusset of Shortlettes is made with 100% cotton, so you don't have to double up for a hot, bulky look and feel. Truly, it's a godsend for the hottest days of the year.
A great aspect of Shortlettes is that they come in a variety of inseams. The shortest is a 5-inch boxer brief, with a body made of a lightweight, silky-feeling polyester/spandex blend (with, of course, a cotton gusset). Unlike a lot of boxers, these are meant for all-day (and all-night) wear, and are designed not to roll up, whether you're running around town or watching a Netflix marathon at home. Oh, and they have a hidden pocket, which makes them great for travel.
The inseams go all the way up to the 15-inch long leg style, which has a comfy high-waist fit and the same moisture-wicking, silky feeling fabric and hidden pocket. These Shortlettes can add a modest edge to any outfit or work beautifully under maxi skirts.
Another great aspect of Undersummers is that the brand is size-inclusive. They range from Small – 5X, and the largest size can fit a waist up to 58 inches and a hip up to 66 inches.
Anti-Chafe Underwear You'll Want To Show Off
My favorite thing about the Shortlette is that they have some seriously cute styles that I'd want to show off underneath my skirt. Just look at the New Pockets Shortlette Slipshort. Not only do these shorts have a 9-inch inseam that covers any possible area that could chafe, but they have a pretty lace around the hem that will look so cute peeking out underneath your skirt. Go ahead and twirl!
If you really want to go for a fun, bold look this summer, the 7-inch inseam doesn't have pockets like the 9-inch one can but it does come in seriously playful colors and prints.
I mean, just look at the bright cherry red, wild leopard, and retro-inspired polka-dot options. These can totally work just as pants if you want them to, which is an ideal summer vibe.
Shop Undersummers At A Discount
The hottest days of the year are still ahead of us, so now is a great time to invest in cool, cute anti-chafe underwear that won't look or feel constricting. And Romper readers can get $10 off online orders from Undersummers. How? It's super easy, just enter the code SUMMER10X at checkout. Soon, you'll be on your way to easy, breezy, and comfortable summer days.
This article was originally published on