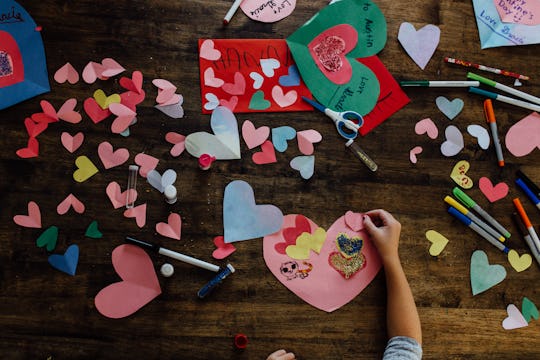 Cavan Images/Cavan/Getty Images
6 Ways To Celebrate Valentine's Day Virtually With Your Little Loves
Virtual activities are still the safest way to socialize, and with Valentine's Day coming up, there are some festive screen ideas.
Feb. 14 is just around the corner, and this year, the day of love will look a bit different. We all know the drill by now, of course. Virtual activities and Zoom calls are the best way to celebrate, and that's OK because safety first, people. If you are looking around for a fun way to celebrate Valentine's Day with your little one, look no further than this roundup of kids' virtual Valentine's Day ideas for kids. From a sweet treat baking class to crafting or sending e-cards to friends and family, there are plenty of ways to spread a little love from your screen.
While I must admit my family and I have never made a big deal about Valentine's Day in the past, there's something about being locked down in a pandemic that makes me want to celebrate everything possible, down to National Ice Cream for Breakfast Day (yes, that's actually a thing). So this year, I say bring on the heart-shaped boxes of chocolate candy, pink and red sprinkles, celebratory virtual activities, Valentine's Day card-making, and FaceTime calls to grandparents. Love is all we need, right? Well, that and our entire population vaccinated, please. And some virtual Valentine's Day ideas for kids. From my screen to yours, Happy Valentine's Day, friends.
So listen, none of these activities are the same as going to a Valentine's Day party or spending time in the same room with elderly loved ones, but in a way, aren't we so lucky to have modern technology as a means of connecting us during these uncertain times? Happy Valentine's Day!
This article was originally published on