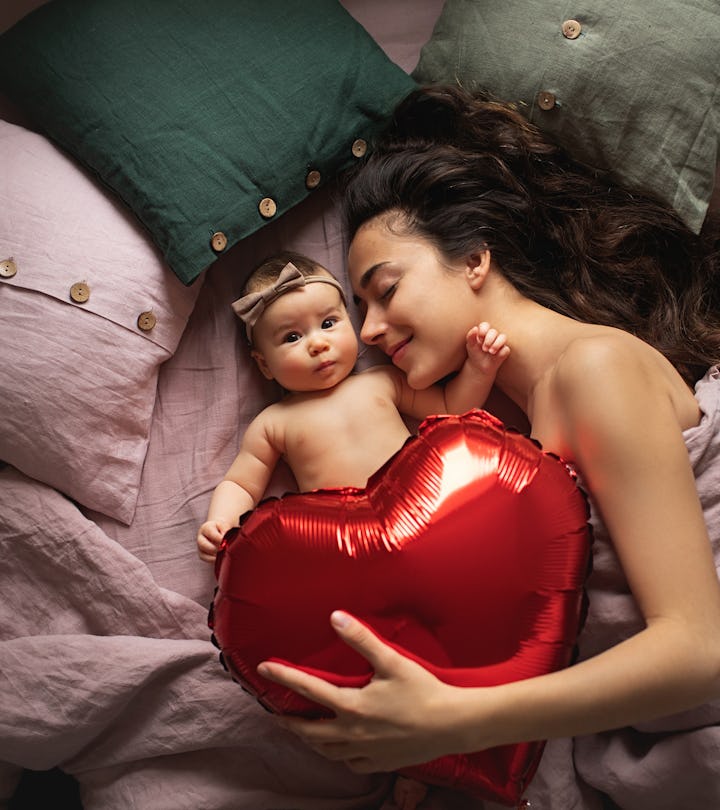 Anastasiia Krivenok, Getty images
This Is What New Moms Really Want This Valentine's Day
It goes way beyond chocolates (but those are good, too).
We may receive a portion of sales if you purchase a product through a link in this article.
February 14 is a day to embrace all things love, and it's a great time to show the new mom in your life that you're thinking of her. Unlike Christmas, a Valentine's Day gift often comes as a total surprise, which makes it all the sweeter. Yes, postpartum she probably really wants a full night sleep, a clean house, and a long shower, but the Valentine's Day gifts for new moms on this list will help make those early days of parenthood, when she's trying to balance her own recovery with caring for her baby, just a bit smoother.
One of the ideas I've really started to embrace is that the best gifts are often elevated versions of something she already has. Sure, everyone has sweatpants, but does your wife, partner, friend, or sister have buttery soft joggers that won't leave an imprint in her stomach? She may have slippers, a bath soak, or a throw blanket, but they're probably not as luxe as the self-care essentials on this list.
She'll be inundated with gifts for the baby, but this Valentine's Day makes it all about mom. Whether it's classic chocolate, a candle that smells like the sea (so it doubles as a mini vacation), or a flower delivery service, the gifts on this list will make her body, her shower, and her home feel a little cozier and a little more indulgent, which is great because she'll be spending a lot of time in these three places.
When it comes to finding the best Valentine's Day gifts for new moms, you can't go wrong with the gifts on this list. Anything that makes her day (and night; they blur) a little easier will be appreciated. One of the best gifts anyone can receive is an elevated version of something they already use, so don't skip the fancy water bottle or the luxe slippers just because you think she already has one. And if you really want to go the extra mile, add in some free babysitting so she can nap or shower without worrying.
This article was originally published on