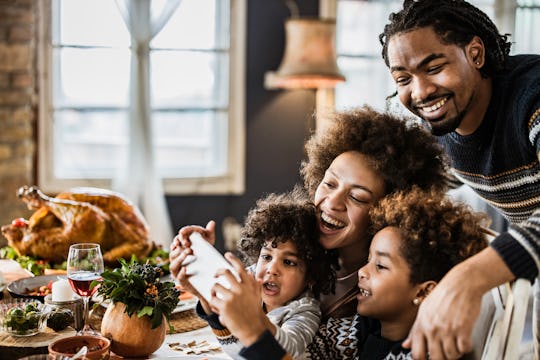 skynesher/E+/Getty Images
8 Tips To Have A *Successful* Virtual Thanksgiving
Despite the distance, you can actually still have a fun celebration.
This year, a cross-country flights to grandma's house may be out of the question, but the love and laughter shared around the holiday table doesn't have to go by the wayside. With these tips for a successful virtual Thanksgiving, you can embrace the change and relish in this new normal without missing a beat.
Even in years without a raging global health pandemic, modern technology has allowed families to celebrate Thanksgiving together from afar. Military families, those with loved ones living abroad, and more know what it's like to see their family members carve turkey states away on a screen.
To help make this year's virtual event even sweeter, Zoom announced that the 40-minute limit on free meetings will be lifted on Nov. 26, CNN reported. This means you can have unlimited time to celebrate from afar. Sure, it's not ideal to have to wave at Aunt Sally over a Zoom call instead of sharing a slice of pumpkin pie, but it can still be an amazing way to feel connected on a holiday meant to celebrate all you're thankful for.
Just because the Centers for Disease Control and Prevention (CDC) Thanksgiving safety guidelines recommend not sitting elbow to elbow with friends and family who don't live with you this year, that doesn't mean you can't do everything in your power to make the holiday special despite the distance. These tips will help you have a festive virtual celebration that your family will remember for years to come.