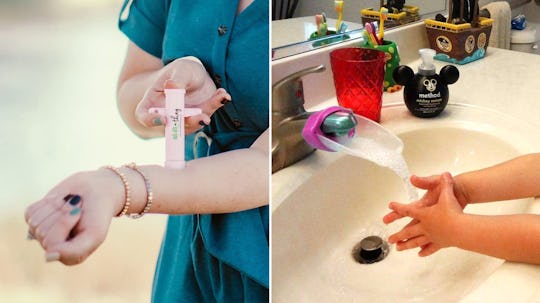 These 17 Things Invented By Moms Are Weird, But So Smart
And you can get them on Amazon!
There is a well-known saying that names necessity as the mother of all invention. While the specific origin of the phrase is murky at best, my personal theory is that the use of the word "mother" was no accident. Motherhood basically forces you to come up with creative solutions for problems that you never knew existed before you became a parent. It makes sense that these 17 things invented by moms seem weird at first glance, but when you actually understand their purpose, they're sheer genius.
The inspiration for many of these mom-invented products came from experiencing a myriad of ordinary — but oh so annoying — problems that parents encounter throughout the course of their daily lives. Whether it's a swath of dried snot blocking a toddler's tiny nostril, an itchy bug bite that a 6-year-old scratches until it bleeds, or a too-big bowl of soggy lettuce leaves that never get quite dry enough after they're washed, there are a ton of little things that can pile up and make a parent's day just a bit more difficult. So, these mamas decided to work smarter, not harder and solve some of life's common parenting woes with these inventions. (Though these momtrepeneuers do work incredibly hard, I'm sure!)
We at Romper only include products that have been independently selected by our editors. We may receive a portion of sales if you purchase a product through a link in this article.
As if you needed one more thing to convince you that moms are capable of ruling the world — and solving all the problems — these inventions are proof that motherhood practically makes you a genius. Hopefully you find a solution or two from this list that can make your parenting life just a little easier.