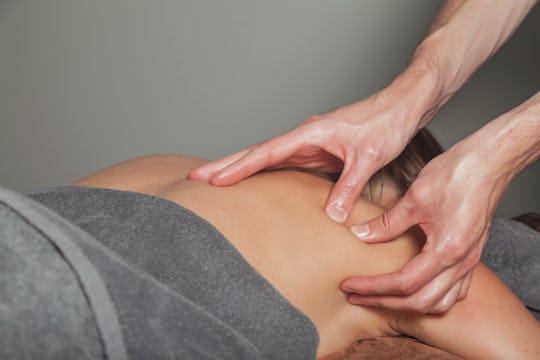 Alexander Golubev / 500px/500Px Plus/Getty Images
7 Surprising Things That Happen To Your Body After A Massage
There's a reason you might feel fatigue.
The concept of a massage can be kind of weird if you think about it. At face value, you take off your clothes (to a level of your own comfort), lie down on a table, and let a stranger rub the stress out of your body for an hour. Despite the odd setup, it's no secret that massages are a super effective way to destress, and the physical and mental benefits are worth any potential momentary awkwardness for many people. But what do we actually get out of the experience, and what happens to your body after a massage?
Although massages are fairly common — about 25% of men and 21% of women in the U.S. got a massage in 2021, according to an annual industry report by the American Massage Therapy Association — not many people know about the actual reasons they make your body feel so good. And oftentimes even what you thought you knew about massages isn't actually the case. "Many of the things that most people think massage does are incorrect," Beret Loncar, licensed massage therapist and owner of Body Mechanics Orthopedic Massage in NYC, tells Romper. "That is because most of what we are taught in school and [what] is advertised on many reputable websites is not accurate. Misinformation is pervasive."
Time for some major massage myth busting here. "For example, massage does not break up scar tissue or increase circulation," Loncar says. "Scar tissue has a tensile strength that it would be impossible for us even to approach changing, and while massage probably affects local circulation, the only way to really increase circulation is to raise your heart rate — and massage lowers it." So, what is it that massages do then?
As it turns out, the effects on your body are more than just what you can feel immediately; some of the impacts can last long after the actual session. Read on for some of the weird and interesting ways your body and brain responds to a professional massage.
Studies referenced:
Meier, M., Unternaehrer, E., Dimitroff, S.J. et al. (2020). Standardized massage interventions as protocols for the induction of psychophysiological relaxation in the laboratory: a block randomized, controlled trial. Sci Rep 10, 14774. https://doi.org/10.1038/s41598-020-71173-w
Seo, B.R., Payne, C.J., McNamara S.L., Freedman, B.R., et al. (2021). Skeletal muscle regeneration with robotic actuation–mediated clearance of neutrophils. Science Translational Medicine, Vol 13, Issue 614. DOI: 10.1126/scitranslmed.abe8868
Crawford, C., Boyd, C., Paat, C. F., Price, A., et. al. (2016). The Impact of Massage Therapy on Function in Pain Populations-A Systematic Review and Meta-Analysis of Randomized Controlled Trials: Part I, Patients Experiencing Pain in the General Population. Pain medicine (Malden, Mass.), 17(7), 1353–1375. https://doi.org/10.1093/pm/pnw099
Experts:
Beret Loncar, licensed massage therapist and owner of Body Mechanics Orthopedic Massage in NYC
Susan Scarpinito, postpartum massage therapist with Purusha Wellness
This article was originally published on