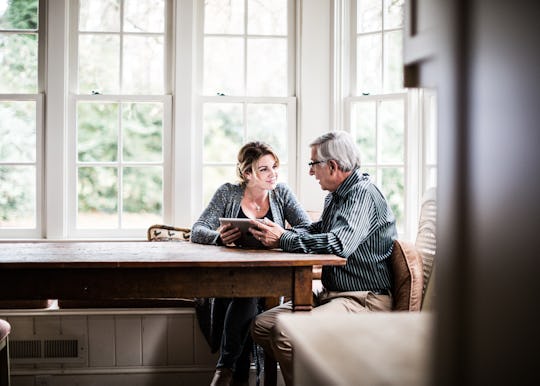 MoMo Productions/Stone/Getty Images
What To Write In Your Dad's Father's Day Card, Whether You're Close Or Not
Sometimes you're at a loss for words.
Every family dynamic is different, and sometimes the state of our own family relationships changes from year to year, so celebrating holidays like Mother's or Father's Day doesn't look the same for everyone. With the latter coming quickly around the corner, many of us have begun making our plans and preparations for the big day to honor dear old dad — but when it comes to giving a card, how do you know what to write in a Father's Day card to your dad?
Expressing some of what you feel to any relative can be complicated, and you might be wondering how to choose the right words for your particular relationship. What to write in a Father's Day card? Here, there's a curated a sentiment for nearly every kind of father-adult child relationship that you can put in a Father's Day card. So whether you and your dad are BFFs, have been estranged, or fall somewhere in between, there's something in this list for everyone. (And honestly, when all else fails, a simple "I love you" may be enough for the dad your life.)
You might choose to use the words verbatim, or take the general idea and put your own spin on it. Once you get started, you may get swept away penning elegant prose about your fondest childhood memories — or you might decide its best to keep it short and sweet, lest your list of grievances find their way to paper. You can take these words as a starting point, an ending point, or perhaps somewhere in the middle. Whatever you choose, what you write in your Father's Day card will be just the right thing.
This article was originally published on