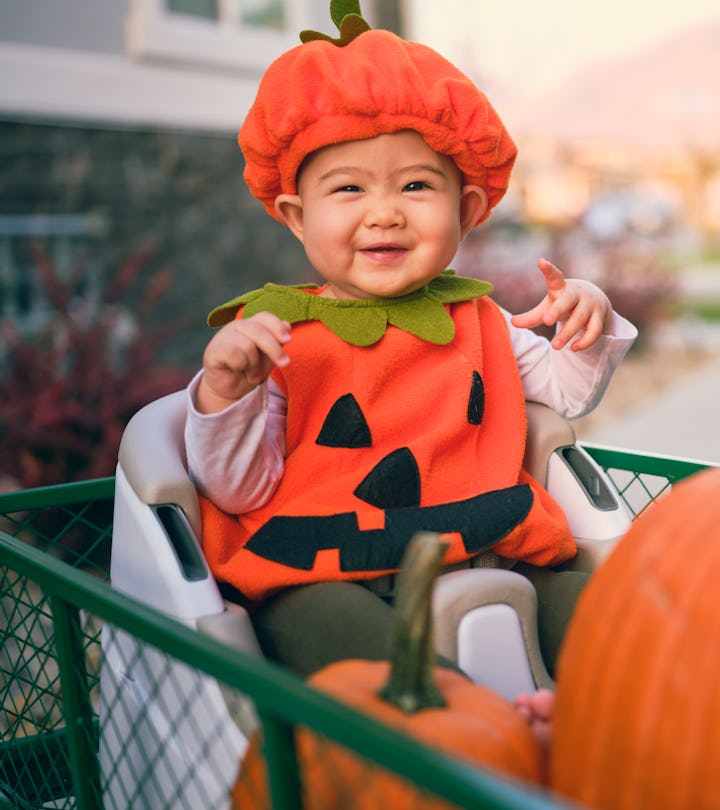 RichLegg/E+/Getty Images
When Can You Take Your Baby Trick-Or-Treating?
The most adorable costume search ever starts now.
Dressing a squishy new baby in a precious Halloween getup is something parents look forward to basically from the moment they find out they're pregnant. And with so many adorable costume options out there for babies, who can blame you? The truth, however, is that there's more to trick-or-treating than the potential for cute pics. The combination of cool weather, crowds, and candy might make you wonder when it might be OK to take your baby trick-or-treating. Will they hate it? Or could it be a fun little outing?
When can you take your baby trick-or-treating?
Good news, Halloween-lovers. You can take your baby trick-or-treating at "any age," says Dr. Linda Fu, a pediatrician at Children's National. She adds that "costumed infants are adorable when carried by their parents and shown off to friendly next door neighbors," and we could not agree more. Although Fu does caution that candy collected should not be consumed by your baby, she says that trick-or-treating should be considered to be a really healthy social outing for families to connect with their neighbors.
I planned my first born's first Halloween costume soon after bringing him home from the hospital in early August. I ordered him the most darling little Ninja Turtles onesie on Etsy complete with coordinating eye masks for him, myself, and his dad to wear for his very first Halloween to show him off in his costumed glory to our friends and neighbors. But, when I bought a jack-o-lantern-shaped candy bucket for my newborn from the grocery store, it did not ever occur to my frazzled new mom mind that he wouldn't actually be able to consume any of the candy we might gather on Halloween night.
One tip for trick-or-treating with babies? Watch out for the candy
"Any candy or treats that typically go into a trick-or-treater's bag are for older children (3 years and above). If an infant wants to join in the fun with a walk around the neighborhood, perfectly fine if weather is permitting. But, in general, we keep the treating to the big kids," Dr. Natasha Burgert, a pediatrician practicing in Kansas City, tells Romper.
I know that technically you could be eating the candy that you collect with your baby in tow, but the debate over whether or not Halloween candy should be reserved for older kids who can actually eat it isn't exactly what we're talking about here. That's another topic for another time. I'm all for doing whatever works for your family, but making sure your baby is safe is the key to knowing when they can actually go trick-or-treating.
Regardless of whether or not you even collect any candy on your trick-or-treating adventures, you can still dress your baby up in a ridiculously adorable Halloween costume. I mean, the best thing about dressing your baby up as an avocado or a sloth is the pics you'll share and the memories you'll make, right?
Consider your baby's costume choice
Speaking of cute costumes, Fu wants parents to make sure that their babies' costumes are weather-appropriate. "It's typically pretty cold in late October, so a baby's costume should be the same weight as what he or she would normally be wearing including a coat and hat if necessary," she tells Romper. "If their hands, feet and nose start feeling cooler than the rest of their body, it's time to head inside. If the weather is cold, then probably limiting to 1 or 2 houses is best."
To make sure you are as safe as possible when trick or treating with your baby, Fu also shares some safety tips for parents to keep in mind. "As with all trick-or-treating, it's important to bring a bright flashlight and start out in the early evening before dusk to be more visible to cars," she says.
With a little preparation and a bit of caution, pediatricians say you can safely take your baby trick or treating at any age. So, what are you waiting for? Get to costume shopping ASAP!
Experts:
Dr. Linda Fu, M.D., M.S. with Children's National Health System
Dr. Natasha Burgert, a pediatrician practicing in Kansas City
This article was originally published on