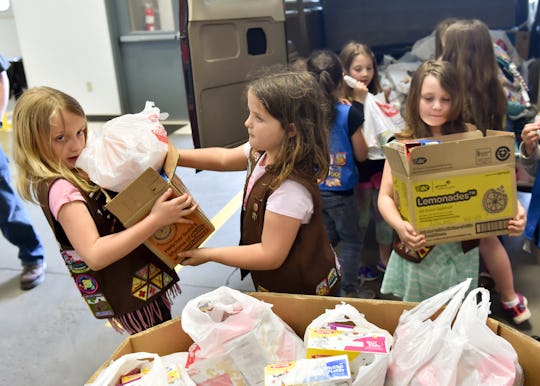 MediaNews Group/Reading Eagle via Getty Images/MediaNews Group/Getty Images
Here's Where Your Girl Scout Cookies Money *Actually* Goes
That'll be 37 boxes of Thin Mints, please.
If you're one of the many people who love Girl Scout cookies, you're probably pretty damn excited when Girl Scout cookie season rolls around (or maybe you've already gotten your boxes!). If that's the case, you might also be a tad worried about the sizable dent those sweet little treats will make in your wallet. After all, where does the money from Girl Scout cookies go, exactly?
Girl Scout cookies can definitely be a smidge expensive, especially if you're loading up on boxes (they can go pretty quick). And since you are probably buying the cookies — at least in part — because they support a good cause, it's natural to want to know how much of the proceeds from each box actually benefit the young girl standing on your doorstep or hanging outside the door of your local supermarket. With a nationwide organization as big as the Girl Scouts — there are roughly 2.6 million people involved, from the 1.7 million girls to all of the adults who volunteer — it's easy to be skeptical about who is actually benefiting. However, in this case, the news is good: Girl Scout cookie sales actually make a big impact for the girls in troops.
Here's all you need to know about where the money made from Girl Scout cookie sales goes, so you can proudly add another box of Samoas to your order.
How Much Money Girl Scout Cookies Make
It turns out that in addition to being tasty, Girl Scout cookies help girls in Girl Scout troops in a big way. According to the official Girl Scout cookie program page, 100% of the net profits from Girl Scout cookie sales, or about 65 to 75% of the cost of each box, stays in your local community. (The rest covers the cost of making the cookies, packaging, shipping, etc.) According to the official online ordering site, a box of cookies costs $5 this year — with the exception of the gluten-free Toffee-Tastic cookie, which costs $6. That means $3.25 to $4.50 per box supports local programs. And that definitely adds up.
According to the organization, the Girl Scouts of the USA typically sell around 200 million boxes of cookies a year, bringing in close to $800 million in total sales over the course of one cookie season. That means almost $600 million of Girl Scout cookie money supports girls in local communities.
Who Benefits From Girl Scout Cookie Sales
All of the net proceeds from Girl Scout Cookie sales stay with the local Girl Scouts council where the sale was made, in an effort to continuously support and fund year-round education programs, outdoor experiences, travel, and scout-led community projects, according to the organization. Revenues from the cookie sales are an essential source of funding for troops and make it possible to reach girls in underserved communities, as well as to maintain camps and properties.
According to the organization, each local Girl Scout council determines its own revenue structure depending on how much it costs to buy cookies, the local retail price to sell cookies, and the amount of revenue shared with participating troops. Though Girl Scouts don't earn proceeds as individuals, the local councils offer a wide variety of recognition items, prizes, and travel experiences for girls based on their sales.
Plus, as the organization states, the benefit of cookie sales can't only be measured in dollars and cents. The girls standing at the cookie booth or neighborhood doorstep benefit from the real-life experience of setting goals, interacting with customers, and making sales. Plus, the proceeds help fund everything from trips to the nation's capital to STEM-focused programs, which are pretty important when you consider that these girls will, one day, be the country's scientists, CEOs, and senators.
There have been rumors in the past that cookie sales benefit other organizations, but there is no evidence to suggest this is true. In the past, there have been conservative groups that organized so-called "cookiecotts," claiming that some of the annual Girl Scout cookie sale proceeds went to support Planned Parenthood and asking people not to buy them. However, the official Girls Scouts organization has confirmed that this is just a rumor. As explained above, all of the net proceeds benefit local councils and troops.
So, now that you know how much money from cookie sales goes to support Girl Scouts in your local community, you can move on to more important questions... like how many boxes you'll need for your family this year.
This article was originally published on