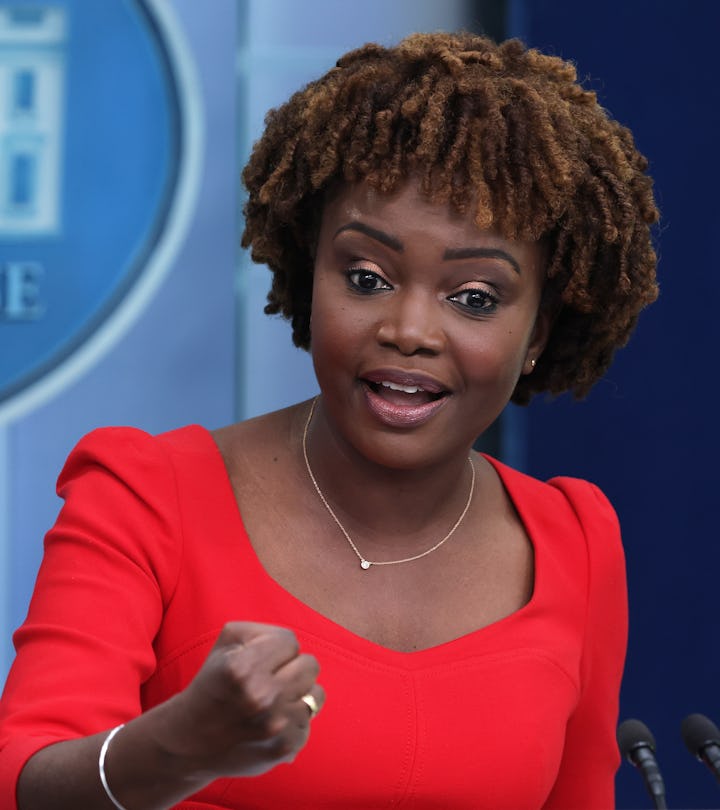 Alex Wong/Getty Images News/Getty Images
6 Takeaways From The White House's First-Ever Parents Press Conference
The Biden Administration opened the press room doors like never before.
In an unprecedented effort to speak to parents directly, the White House hosted its first-ever parent briefing on June 16 to address the critical issues facing American families today. The event was both intimate and informative, focusing on vaccines for children and the infant formula crisis.
"It's been a tough year for parents," said White House Press Secretary, Karine Jean-Pierre, who is herself the parent of "an amazing, wonderful 8-year-old." "I am also a mother, so it's my great pleasure to welcome all of you today." Also fielding questions from parenting journalists and moms (some with babies on their laps) were Admiral Rachel L. Levine, M.D Assistant Secretary for Health for the U.S. Department of Health and Human Services, and Ashish Jha, M.D White House Covid-19 Response Coordinator. (The event was co-hosted by our sister brand, Scary Mommy.)
Here are some of the major takeaways to help families navigate these difficult times, straight from the mouths of government leaders and experts, many of whom are concerned parents themselves.
#1. Covid vaccines are safe for kids and absolutely do not affect fertility.
The vaccine for children under 5 was on the cusp of Emergency Use Authorization, and several questions came about the decision to vaccinate the youngest Americans. One of the very first points Dr. Jha addressed was the safety of vaccines for all children. "The data on vaccines for kids over 5 is really, really overwhelmingly clear. These vaccines are incredibly safe. They're highly effective," said Jha, who wore a mask to the press conference but took it off to speak. "I've got three kids who are over 5. All of them are vaccinated and boosted."
He also made it crystal clear that vaccines do not cause infertility. "There is zero scientific link between these vaccines and infertility, menstruation, any of those issues," said Jha. "We see this [theory] with every vaccine, the issue of infertility is raised by anti-vaxxers. They did it with HPV vaccines. They've done it with measles vaccines. You name the vaccine, it's the favorite go-to source of misinformation."
#2. It's a mistake to think younger children aren't at risk by comparing them to adults.
Some parents might think they don't need to vaccinate younger children because they have been told that younger kids are less at risk for severe Covid than other older populations, but Dr. Jha pointed out the flaws in comparing your kids to more vulnerable populations — adults, the elderly, or those who are immunocompromised.
Dr. Jha offered this helpful framework: "Kids are always at lower risk than the elderly for pretty much every disease. The real question is how does the risk of Covid compare to other risks that children face? So if you have a 4-year-old, you're not asking is my 4-year-old at lower risk than my 14-year-old. You're asking what are the risks to my 4-year-old? And how does Covid compare to other things I might vaccinate against?"
He also reminded attendees of some sobering statistics for children under 5: "Almost 50,000 of them have been hospitalized because of Covid infections. And these are just kids under 5, a quarter of them in the ICU. Two thirds of these children had no comorbidities."
#3. Covid vaccines for kids under 5 have no interactions with other regularly scheduled vaccines.
Dr. Jha also made it clear that the kids under 5 in clinical trials had also received their other regularly scheduled vaccines. He explained that the immune system is able to handle getting vaccinated against multiple infections quite effectively. "There's really no reason to think that adding this vaccine will disturb the others, but they're certainly tracking that in children, and all the data so far suggests these vaccines are incredibly safe, including in terms of interactions with other vaccines."
#4. For the vast majority of infants, it's fine to switch brands of formulas, but parents should never use homemade formula.
While most parents are used to choosing one formula, perhaps recommended by a pediatrician, and sticking with it, the formula shortage has triggered intense anxiety for parents who are forced to use what's available on the shelves. Admiral Levine, who has also been a pediatrician for over 40 years, assured parents that if you're using the regular cow's milk formulas, it's perfectly OK to switch between brands such as Similac, Infamil and Good Start. They key is to use the same type of formula (if your baby drinks a soy milk, stick to a soy based formula).
Levine also discussed using formulas the government is flying in from overseas, and said they're good for babies so long as you carefully follow directions that will likely use the metric system. "It might take a little while for your baby [to adjust]. It might have a slightly different taste, but usually if you work with them, they will adapt to the new taste. And they'll be fine," said Levine. She also recommended that parents of babies who consume hypoallergenic or specialized formulas should consult with their pediatricians before switching.
And while there is flexibility with switching formula brands, Levine was adamant that parents never make homemade formula or use alternatives such as goat's milk or Karo syrup: "There's a tremendous amount of research that goes into what are in your baby formulas. And so you have to be really, really cautious."
#5. While regulations on WIC benefits have been relaxed, these likely won't last.
About half of the infant formula purchased nationwide is by families using WIC (Special Supplemental Nutrition Program for Women, Infants, and Children) benefits, so it was a great relief to many parents when some red tape was cut and regulations for these programs were relaxed in order to allow parents to purchase whatever brands and options are on shelves. Levine, however, shared that these changes are likely short-lived, and she doubts they will continue after the shortage. "I don't think it's going to go back to use that more flexible formula forever, but that's the way it is now," she said.
The reason, she explained, is that this isn't something set at the federal level. "Each state has a specific formula through WIC [because] they negotiated the best contract," she explained. "It's not done for nutritional reasons — why they pick Infamil or Similac or Good Start or one of the other ones. It's done because they negotiated a really good contract."
#6. While parents have lost significant trust, here's what's being done to address the formula shortage.
Romper's editor-in-chief Elizabeth Angell, who attended the event along with managing editor April Daniels Hussar and columnist Tabitha St. Bernard Jacobs, noted the experts acknowledged the high toll that the infant formula shortage has taken on parents. "In addition to the trauma of not knowing where your baby's food will come from, real damage has been done to parents' trust in institutions that are supposed to help protect them. [Admiral Levine and the rest of the administration] have no easy answer to this but they're aware it's a serious issue," she said.
Levine was also empathetic to parents and recognized how difficult it's been to navigate this anxiety-provoking time and begin to move forward. "You know, I think that once trust is lost, it needs to be earned back. And I think that the baby formula business has threatened that trust."
That being said, she offered an optimistic view of manufacturers willingness to collaborate with the administration and significant details of what the government is currently doing to proactively address the crisis. "We are pulling the full force of the federal government to ramp up production and to increase the supply of safe infant formula," said Levine. "This week alone, there are 10 operation fly formula flights scheduled by June 19th, and that will transport nearly 13 million eight ounce bottles to the United States," she continued. "We'll do everything we can to get formula on the shelves so you can feed your babies."