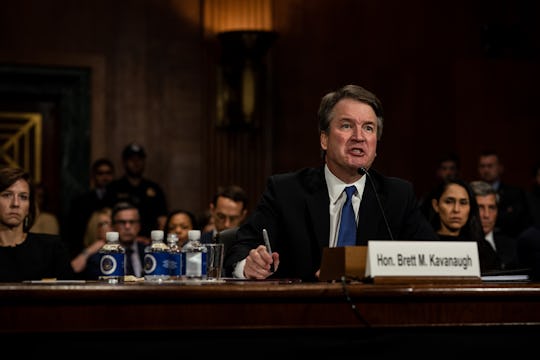 Pool/Getty Images News/Getty Images
Former Roommate Claims Kavanaugh Lied Under Oath, But The FBI Ignored Him
The Senate Judiciary Committee heard damning testimony from Dr. Christine Blasey Ford last week, during which she alleged that Supreme Court nominee Brett Kavanaugh attempted to rape her when they were in high school. The Committee, starkly divided across party lines, agreed to an additional background check on the judge. But the scope of that investigation was so limited that Kavanaugh's college roommate, who claims he lied under oath, says that the FBI never reached out to him for an interview.
Jamie Roche, who was roommates with Kavanaugh during their freshman year at Yale, has no specific knowledge regarding Ford's allegations, but he has information he believes to be pertinent to another claim of sexual misconduct leveled against Kavanaugh by their former classmate, Deborah Ramirez. Other accusers have come forward, as well, but the FBI was only instructed to investigate Ford and Ramirez's claims. Kavanaugh has denied all of the allegations.
But according to Roche, Ford, Ramirez, and several others familiar with the issue, even that limited investigation was ludicrously inadequate. While Roche has said that he has only a "vague memory" of the details surrounding Ramirez's assault, he's more than willing to speak to Kavanaugh's character, and describe several incidents that he says directly contradict testimony that the judge gave to the Senate, while under oath.
In an interview with the New Yorker late last month, Ramirez alleged that during a college dorm party in 1983, Kavanaugh "thrust his penis in her face" as she lay on the floor, incapacitated. "Brett was laughing," she claims. "I can still see his face." Kavanaugh's Senate testimony last week centered around a separate incident involving Ford, but he was also questioned more broadly about his behavior as a teenager. Many of his accusers and witnesses have described the young Kavanaugh as a heavy drinker who habitually mistreated women. Kavanaugh has refuted those claims, insisting that he drank no more than other teens at the time, never passing out or blacking out from drinking.
In an op-ed for Slate published on Wednesday, Roche characterized his former roommate as a "notably heavy drinker" who became "aggressive and belligerent" when drunk. "He claimed that he occasionally drank too much, but never enough to forget details of the night before, never enough to 'black out,'" Roche wrote. "He did, regularly." Roche also claims that Kavanaugh brazenly lied to the Senate when questioned about words and phrases found in his high school yearbook: "He said that 'boofing' was farting and the 'Devil's Triangle' was a drinking game. 'Boofing' and 'Devil's Triangle' are sexual references. I know this because I heard Brett and his friends using these terms on multiple occasions."
Despite his eagerness to share what he believes to be critical information on Kavanaugh's past, Roche says that the FBI has never contacted him; not during its initial investigation, not during the second one (which has now concluded), and not even after he published his account online. "As Brett's college freshman roommate," Roche wrote, "I would have expected to be interviewed if a background check was looking for evidence of poor college behavior." After being specifically instructed to investigate Ramirez's claims, one might assume Roche would have been at the top of the witness list. But he still wasn't interviewed.
So the question is, why would the FBI conduct such a truncated investigation into such serious claims? According to NBC News, this wasn't a criminal investigation; it was a background investigation in which the FBI was acting on behalf of the White House. As such, the bureau was only permitted to interview witnesses approved by White House counsel. On Wednesday, Bloomberg reported that the FBI was not allowed to interview Kavanaugh or Ford, the very subjects of the investigation. The final background check was delivered to the Senate early Thursday morning, Time reported, and contained only ten witness interviews. Ford's lawyers complain that their client didn't get to speak to the FBI, and Ramirez's lawyers said that she provided the FBI with the names of 20 different people who could corroborate her allegations, none of which were contacted. The Republican-controlled Senate will now decide, based on this report, whether to confirm Kavanaugh.