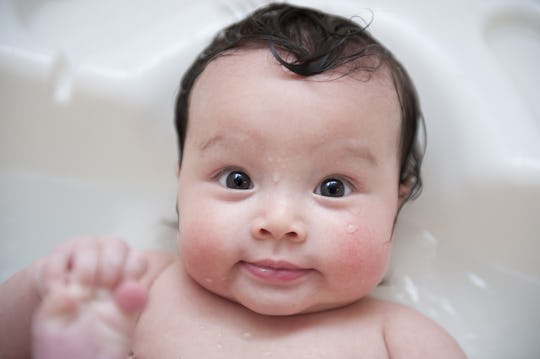 Shutterstock
10 Instagram Captions For Baby Bath Pics (Of Course There Are Bobby Darin Lyrics)
What is it about pics of babies in bathtubs that never fails to illicit a smile from even the most stone-hearted of humans? Take any Instagram caption of a baby during bath time and you'll find a love story. Is it a baby's unbridled joy at soaking everything within a 3-foot radius? The joy of being surrounded by warm bubbles? Or just sweet little toes peeking out from water?
I don't know, but every photo is perfection. It's just important to note that parents should be cautious and smart about the kinds of bath photos they share on social media. As adorable as these posts can be, naked photos of kids can and do fall into the wrong hands, and many sites advise not sharing bath time pics at all.
It's also good to remember that while you may find a sudsed up photo of your toddler absolutely hilarious, that toddler might not find it so funny when he hits 7 years old.
All of that said, if your Instagram has good privacy settings, and you know who you're sharing with, you might have some bath pics that feel suitable to post. (Maybe those that only show your kid's lathered up head, or pics where their bodies are actually covered with bubbles.)
But even if your shots aren't right for social media, well, these captions could still come in handy for texting with the grandparents, or for your own personal photo album.