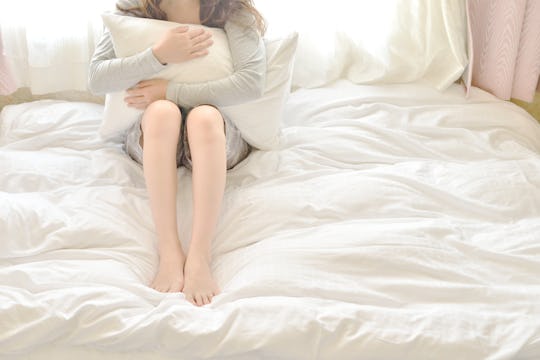 Fotolia
10 Ways To Survive The Holidays When You Suffer From Anxiety
There have been many times in my life when my anxiety kept me holed up in my bed — lights off, rubbing my feet together so ferociously I developed callouses. This was me, isolating as a way to stave off anxiety, before Netflix was even a thing. However, the holidays should not be one of those times. Not for me, and not for you. There are ways to survive the holidays when you suffer from anxiety is something you can learn to master and must tackle. But why, exactly?
According to The Mayo Clinic, holiday anxiety can affect your health, and who wants to be sick when there's mistletoe hanging? As someone who's lived with anxiety for over 30 years, being "chill" is easier said than done. It's not, however, impossible. I know because I've been handling my anxiety for a while now, and I think I've got this. Something is bound to get me fired up between now and the first of the new year, because I'm not perfect (newsflash), but I've learned to be fine with that. I'm doing the best I can to keep imperfection from making me anxious.
When it comes to the holidays, the struggle is real. It might not be the most joyful thing to say, but I'll say it: the holidays make me anxious. I start to feel like my head is in a vice (not very festive, I know). What's wrong with me? My family has crazy expectations of me, I get nervous about traveling, I over-commit to holiday parties, I over-spend and feel more broke than usual, and then I start to feel guilty over these First World Problems. Still, just as the struggle is real, so are my feelings, and acknowledging them is the first step to banishing holiday anxiety.
Therapy and mindfulness have helped me manage anxiety, but even more so is feeling comfortable in my own skin. Trust me, the holidays will shake you, but as long as you hold onto yourself you can survive all the way into the New Year (and beyond, my friends). The following tips can help, too.