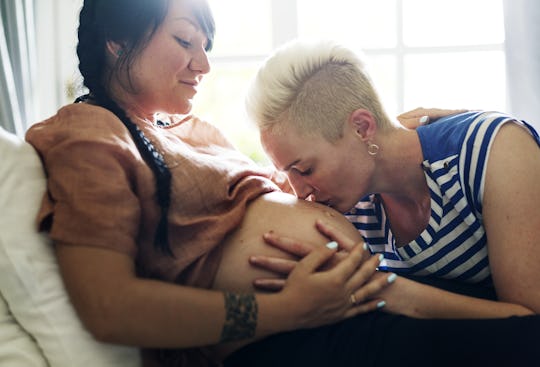 Rawpixel.com/Shutterstock
13 LGBTQ+ Parents Celebrate What Makes Them Great Moms & Dads
Like most parents, I'm trying my best to raise kind, loving, caring children. And every single part of me is used to reach that goal, including my education, my professional training, my religious ethics, my babysitting experience, and my queerness. Being a LGBTQ+ parent means being surrounded by a rich lineage of queer predecessors who I look to as role models and inspirations. It means I have a sense of pride about who I am, and that self-love absolutely shapes the way I parent my kids.
Parents from any culture, race, identity, or background can be excellent, amazing, loving parents. But marginalized groups are often unfairly criticized and imagined to be bad parents. Black parents are unfairly judged by institutions like the foster care system. Laws in many states allow adoption agencies to turn away LGBTQ+ people. For generations, Indigenous children were stolen from their parents under the false justification that boarding school would be a "better" experience for the children. And, today, immigrant children are being taken from their parents at the border under the guise of "child safety."
Every parent brings their culture and background, with all of its unique advantages, to their parenting. The queerness I know celebrates beauty and laughter and creativity, and helps me enjoy life even in the face of struggle (which sometimes feels like the essence of parenting). The queerness I live in values all people, in all body sizes and shapes, with or without disabilities — something I want to instill in my children.
Of course, I am not alone in how this part of my identity helps me be the best parent I can be. Romper spoke to 13 LGBTQ+ parents who were willing to discuss how their identities helped them be the fabulous moms and dads they know themselves to be. We are not great parents in spite of being LGBTQ+, but because of it.