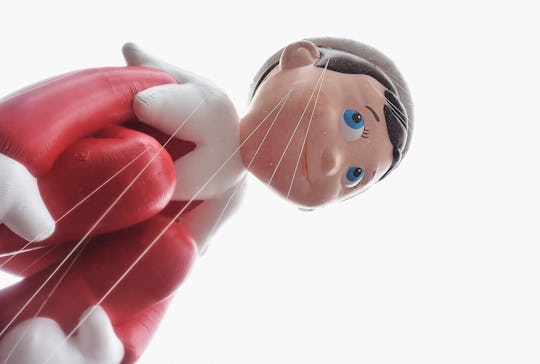 Michael Loccisano/Getty Images News/Getty Images
13 Super Quick Elf On The Shelf Ideas When You're All Out Of Holiday Inspo
For years, our children have made it onto Santa's nice list every year with the help of Sprinkle, an elf that does not live on a shelf. Instead, Sprinkle lives in my closet and climbs into the air conditioning ducts to spy on the kids. No one sees him, because Sprinkle is super sneaky. Okay, so Sprinkle is actually imaginary. I've just never had the time to hide an elf every night, and my kids never minded. But if your children insist on a real elf and you're similarly time-strapped, there are some quick Elf on the Shelf ideas that are almost as easy as going the imaginary route.
As it turns out, this year I might have to make the transition from invisible elf to the shelf-sitting variety myself. Everyone at my house was content with the Sprinkle arrangement until recently. Our third grader was miffed when I explained that Sprinkle had taken on another family of younger children, hoping the Nesmith children would be ready to self-govern a bit thanks to their advanced ages, and now she wants an Elf on the Shelf like the rest of her friends. We ordered it and Sprinkle's going to be so mad.
It's not like I'm the only parent to give in on this one: Introduced to the U.S. market in 2005, 11 million households were home to an Elf on the Shelf by 2017, as CNN reported. And of course, millions of those Elf owners have come up with millions of quick, easy ideas that you can use as inspiration or outright steal. Some of them are outrageously involved, but others, like these, will only take a few minutes out of your evening to achieve.
This article was originally published on