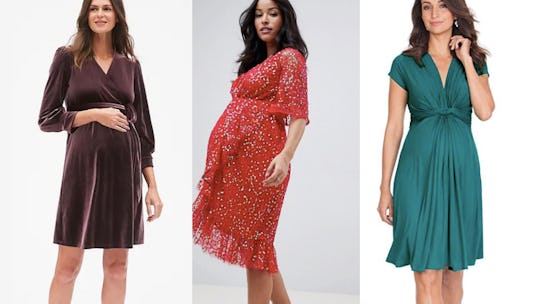 14 Cute Maternity Dresses For Holiday Parties, Because Your Bump's A VIP Guest
Finding maternity clothes that look good and feel good is hard enough when you're talking about everyday outfits for home or work, but it can be even more difficult when you're talking about dressing up for special occasions. The go-to little black dress hanging in your closet probably isn't going to fit you for holiday parties this year (unless your bump hasn't popped yet, and you can still squeeze yourself into it). Thank goodness you can find some really cute maternity dresses perfect for holiday parties in-store and online at your favorite retailers.
Since you're not going to be able to wear them for more than a few months before they get packed away, it doesn't always make sense to spend lots of money on maternity clothes. Then again, who deserves a splurge more than a pregnant woman? There are both bargain options and investment pieces on this list — not matter which option you go for, you're pretty much guaranteed to be the center of attention at any holiday party you walk into thanks to your protruding belly, so why not rock something that makes you feel confident. Just remind people that they touch your bump at their own risk.
Here are 15 gorgeous maternity dresses for all this year's holiday gatherings.