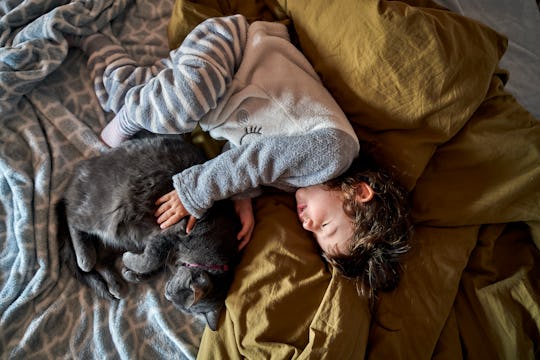 Westend61/Westend61/Getty Images
These 14 Pics Of Toddlers & Cats Will Instantly Improve Your Mood
You've probably heard that dogs are man's best friend, but maybe the saying really should be that cats are toddler's best friends (furever). You may not think of cats as especially cuddly creatures (and some are not) but these 14 pictures of toddlers and cats together prove that kitties can be loyal buddies, too.
Cats are sometimes thought to be selfish, bizarre creatures (as anyone who's seen the movie Cats can attest) but it turns out that many do care about the feelings of their humans. Cats may even try to comfort you if you're feeling sad, as Romper previously reported, so it makes sense that sometimes cats and kids have an instant bond.
If you're getting a new furry friend and are worried about how your newest family member will react to your kiddo, you can have your child "hold out one finger and allow the cat to sniff it," American Humane advises. "If [the cat] tries to rub your finger, that is a great sign! If she backs away or hisses, she is not comfortable. Never force a cat into a situation she isn't comfortable with — this could spell disaster for the cat and the human."
From gazing out the window together to "sharing" snacks, and of course, lots of cat naps, these 15 pictures of cats and toddlers prove that sometimes kitties make the best of friends.