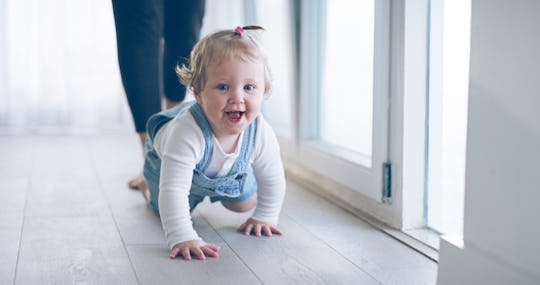 Cecilie_Arcurs/E+/Getty Images
When Your Baby Starts Crawling, These 15 Products Are Lifesavers
One day, your baby is rolling all over the place to get from point A to point B, then the next day they're up rocking on their hands and knees, a clear warning sign that they are about to be really mobile. At this point, you may be wondering what products to buy when your baby starts crawling. Now is the time to stock up on things to keep their little hands and knees comfortable and the rest of their body safe from harm.
As soon as your baby is developed enough to move around independently, you will probably see your home as one giant safety hazard. You'll suddenly realize how easy it is to access the cleaning supplies under the kitchen sink, or how sharp the corners of your furniture are.
It might be tempting to keep your little one contained to one small space at all times, but letting them do some exploring will further their development. Crawling helps them progress to walking. So, it's best to lean into it and support their desire for adventure. If you need a little help in finding the balance between encouraging growth and keeping them safe, here are 15 products to consider as you prepare yourself, your house, and your baby for crawling.