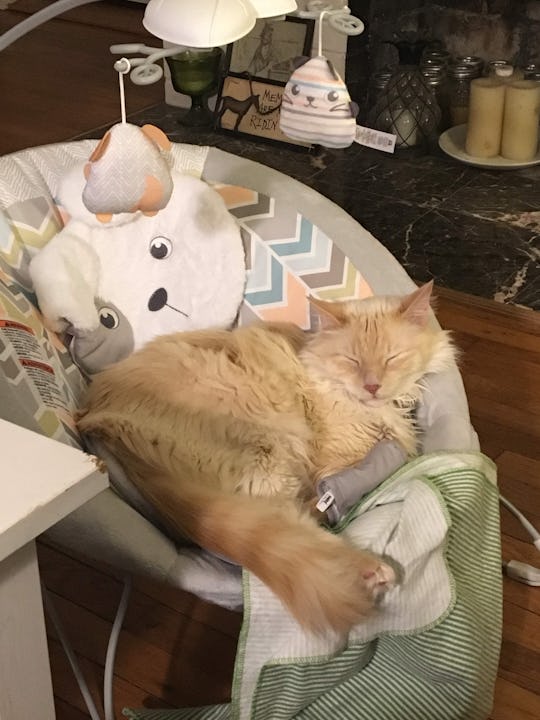 Photo Courtesy of Abi Berwager Schreier
16 Things Cats Stole From Babies, Because Everything Belongs To Them
I love them, but cats are jerks. The biggest jerks. Everything you bring into the house, they totally think is theirs — including stuff for your kid. To prove my point (and because everyone loves a good cat picture) here's basically a coffee table book of things cats stole from kids.
As for me, I have two cats (and two beagles) in our quite full, funny-farm house. And among our pack, the cats — specifically Sam, the cat elder of the family — rule the roost in our 1,300 square foot house. It's a little cramped, y'all, to say the least. Sam is 10 years old, and he was our first baby my husband and I adopted as a couple. He's been with us through our engagement, marriage, several apartments, a rental house, and finally our current home — plus another cat, two dogs, and a baby.
I was nervous about how territorial he would be with another human in the house since he likes to make sure all the other animals in our pack know he's the alpha. At a whopping 19 pounds, he can definitely throw his weight around. And while he is definitely sweet with our son, he does hog all of his stuff, as cats are wont to do. In fact, Sam and our other cat Molly were sleeping in our son's crib so much before he was even born that I had to wash the sheets three times before he got here. (In our defense, our son's door doesn't latch because we live in a really old house with quirks. So there was no way to keep them out of there.)
But now they enjoy sleeping on my son's changing table, his toy box, laundry bin, and pack-and-play. And of course when he was a baby, they were super fans of his swing and bouncer. But luckily, according to these pictures, our cats are definitely not alone in stealing a kid's stuff.