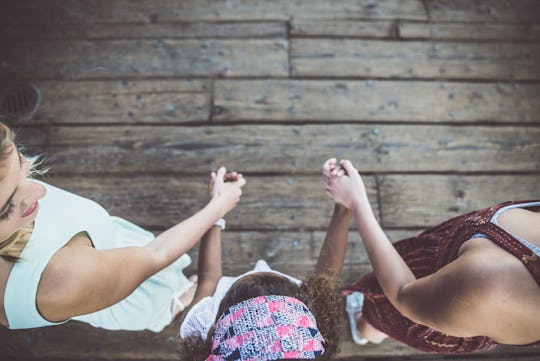 Shutterstock
21 LGBTQ+ Parents Share What Their Kids Call Them Besides "Mom" & "Dad"
Mother's Day, Father's Day. "Mommy and Me" classes, "Daddy-Daughter" dances. The world of parenting seems to be divided into two camps: the mom group and the dad crowd. But what about parents who don't identify with either? What are some alternatives to "mom" and "dad" that LGTBQ+ parents can, and often do, use?
Turns out, there are plenty of non-traditional names for "mommy" and "daddy," and they represent as many genders as you can imagine. (If you can't imagine more than two genders, check out some of these gender options.) One of the great things about being LGBTQ+ is that we get to invent and define new terms so that each person has an identifier that fits them just right. The terms for genders keep evolving, too. When I first came out, in 2003, lots of folks were using the term "genderqueer" and the pronouns "ze" and "hir." Now, the terms "nonbinary" and "agender" are more common, and lots of folks use the pronouns "they/them."
It's estimated that as many as 3.7 million children under the age of 18 have an LGBTQ+ parent, according to the Family Equality Council. And, of course, many of those parents are in the mom group and the dad crowd. But many aren't, and they've created a variety of other names as a result. Romper asked 20 LGBTQ+ parents to share their unique, non-traditional "mom" and "dad" alternatives, because there's more than two ways to identify as a parent.