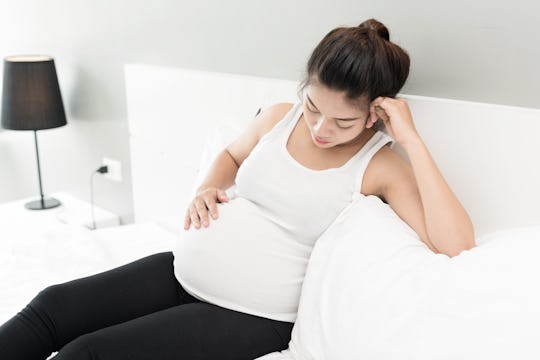 Mangpink/Shutterstock
5 Common Illnesses That Have Even Weirder Symptoms During Pregnancy
You're growing extra body hair, your voice is getting deeper, and you're bloated absolutely everywhere — getting pregnant means lots of new things will happen to your body. As if being pregnant didn't cause enough odd bodily changes, sometimes pregnancy causes weird symptoms when sick. While some of them aren't a big deal, others are a bit higher risk (looking at you, flu).
Tiffany Wells, MD, OB-GYN at Baptist Health in Jacksonville, Florida, tells Romper that chronic conditions can change unexpectedly during pregnancy, and some common illnesses can cause, well, uncommon symptoms. Women should keep them in mind since it's easier to get sick while pregnant.
"When your immune system is working hard to protect two people, it can be easier than ever to get sick, and something like the common cold can bring with it a few surprising symptoms during pregnancy," she says. "One of the big ones is shortness of breath because of the hormones of pregnancy and, later on, the anatomy of the uterus getting larger. If you're short of breath, certainly that can make you feel more faint or dizzy. With all the swelling in there, people can feel a lot more congested."
Whether it's a run-of-the-mill cold or a chronic condition, like high blood pressure, here are a handful of illnesses and wonky associated symptoms to be aware of.