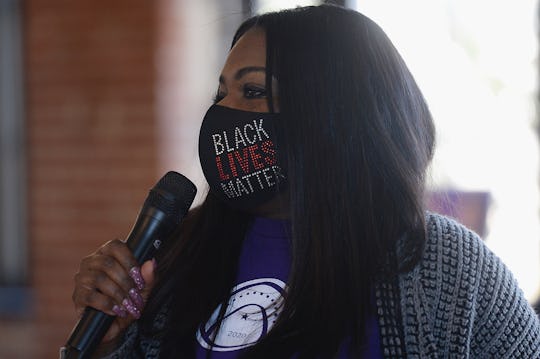 Michael B. Thomas/Getty Images News/Getty Images
Meet Cori Bush, A Single Mom, Nurse, & Now Missouri's First Black Congresswoman
While the nation waits to find out the results of the 2020 presidential race between President Donald Trump and former Vice President Donald Trump, the election has already delivered some historic victories to celebrate. Like when news broke about Cori Bush, who became Missouri's first Black congresswoman on Tuesday night.
Back in August, according to The New York Times, Bush beat out longtime Democratic Rep. William Lacy Clay, who had taken over the seat from his own father in 2000. And it was that victory that led Bush to Election Day in November, where she went on to make history by becoming the first Black congresswoman from the state of Missouri. Not only the first Black woman, as Bush herself noted in her acceptance speech, but also "the first nurse and single mother to have the honor to represent Missouri in the United States Congress."
"To the Black women, the Black girls, the nurses, the essential workers, the single mothers — this is our moment," Bush said in her acceptance speech on Tuesday night.
As Bush prepares for this momentous next chapter, it's important to honor the road that lead her to the steps of Congress because her story is simply incredible.