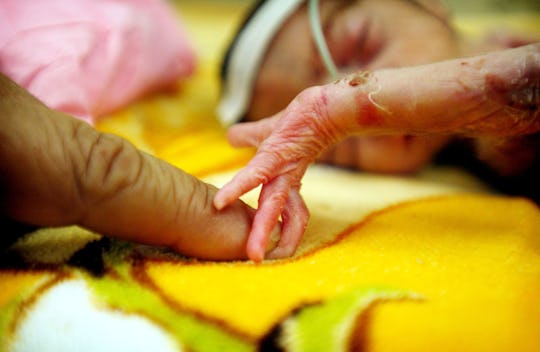 Graeme Robertson/Getty Images News/Getty Images
5 Signs Your Baby Is More Likely To Be Born Premature, According To Experts
Most pregnant women know the feeling of counting down the weeks until their due date, but for moms who are worried about going into labor prematurely, everyday of their pregnancy is a blessing. While there is no definitive way to know when your baby will be born, there are some factors that put some women at higher risk of preterm birth than others. Here are 5 signs your baby may be born premature.
According to the Centers for Disease Control (CDC), babies born before week 37 of a pregnancy are considered premature and are at higher risk for health issues, because a lot of fine tuning happens in those last weeks: It's when the baby's liver, brain, and lungs fully develop. Unfortunately, preterm births have been on the rise in recent years, noted the CDC, with one in 10 babies being born prematurely in 2016.
The good news is that, thanks to modern medicine and amazing NICU doctors and nurses, most babies born after 26 weeks survive and thrive, noted Baby Center. But if you are worried about having a preterm birth, here are a few risk factors you should know about.