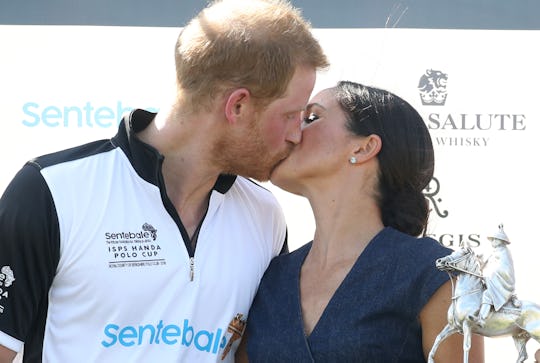 Chris Jackson/Getty Images Entertainment/Getty Images
5 Times Prince Harry & Meghan Markle Were #RelationshipGoals
The Duke and Duchess of Sussex; who doesn't love them? Their love story is like something you might watch (or did watch) in a made-for-TV movie; an actress who fell in love with a prince and became royalty. Except it's even lovelier than that, more complicated and nuanced in the best possible way. As much as I also love the Duke and Duchess of Cambridge, there are at least five times when Prince Harry and Meghan Markle were #relationshipgoals.
The former Suits actress and the youngest son of Prince Charles and Princess Diana were married in May 2018 after a whirlwind romance. The two were set up on a blind date, if you can believe it, and both Harry and Meghan admitted that sparks flew at that first date. In fact, Prince Harry told the BBC that his first impression of his date was that he, a member of the British monarchy and arguably one of the most eligible bachelors on the planet, was going to have to really up his game to win her over; "I was beautifully surprised when I walked into that room and saw her. There she was sitting there and I was like, 'OK, well I'm going to have to up my game.'"
And from that amazing meet-cute first date, the couple were off and running.
Falling In Love In Africa
Have you ever gone on a pretty solid first date, say to the movies and out for dinner, and then each subsequent date looks pretty much the same? Of course, we all have. But maybe the problem is none of us are dating royal princes. After the couple went on two dates in London in 2016, they jetted off to Botswana to camp out under the stars and really get to know each other. As Prince Harry said, according to Town and Country:
We camped out with each other under the stars, sharing a tent and all that stuff. It was fantastic.
This was an especially significant date for Harry, who has long felt a deep affinity for the continent of Africa. Plus, it gave the couple a chance to truly get to know each other while hanging out "in the middle of nowhere." Yes, this is a real life rom-com.
Just A Couple Of Philanthropists
Prince Harry's late mother, Princess Diana, was a princess who used her status to do great works of charity for years. And her both of her sons have made the conscious decision to honor her memory by continuing her work. But it seems that Prince Harry has found his perfect partner, not just in life but in philanthropy, in Meghan Markle. Even before she became a member of the royal family, she worked as a global ambassador for World Vision advocated on behalf of the United Nations, and attended the UN Women's Conference in Beijing in 2015, according to Harper's Bazaar.
Protective Prince
I know it's 2018 and women don't need a man to protect them. But can I just say it's not the worst thing in the world to have a prince stand by you no matter what? When Meghan Markle's family, her father Thomas Markle Sr. in particular, spent the days leading up to their wedding embarrassing her. Prince Harry was reportedly very protective of her at the time, unconcerned about the effect the controversy had on the royal family and only thinking of her. Sorry, but *swoon.*
Funny Girl
A good sense of humor is key to a great relationship, and just a quick scroll through the thousands of pictures of Prince Harry and Meghan Markle on the internet shows the couple love to laugh together. Even during their wedding photos, the pair sort of cracked up and it was pretty wonderful.
Unique But Together
Another element of a great couple that Prince Harry and Meghan Markle embody? Neither one of them appears to be in the business of trying to change the other. Even when it came to centuries-old royal wedding traditions, Prince Harry appeared to be adamant that Markle make choices that made sense for her. From the wedding cake to the ceremony to walking herself most of the way down the aisle, Prince Harry was all about supporting his bride in her autonomy.
Royal Babies
Both Prince Harry and Meghan Markle seem to be on the same page about one of the biggest decisions in their lives; babies. They want them for sure. Neither have said when they want to start a family specifically, but they both definitely love kids.
Yet another reason they are #relationshipgoals.