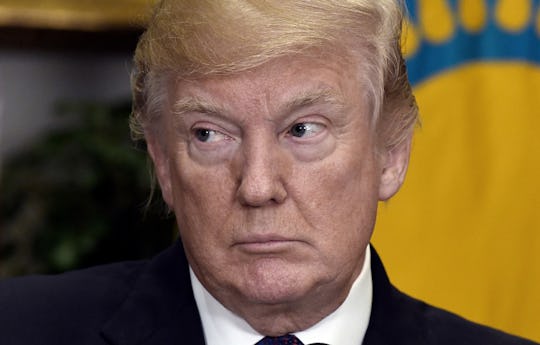 Pool/Getty Images News/Getty Images
5 Weird Details From The Stormy Daniels Story About Trump That You've Gotta Read
In case you missed the political scandal of the week — this past year has forced us all to operate on shorter time frames for this sort of thing — The Wall Street Journal recently reported that President Trump's lawyer reportedly paid a former adult-film star $130,000 in order to stay quiet about an alleged sexual encounter she had with Trump. In light of the news, an old In Touch interview from 2011 — five years before Stormy Daniels was reportedly paid to remain quiet — has resurfaced, and here are five weird details from the Daniels story about Trump that are worth a read.
Romper reached out to both the White House and Daniels about the reports, but did not hear back immediately. To be clear, the White House, Trump, and Trump's lawyer have all denied Daniels' story, according to USA Today, with Cohen telling The Telegraph in a statement, "President Trump once again vehemently denies any such occurrence as has Ms. Daniels."
But the interview Daniels gave In Touch Weekly in 2011 tells a different story. The magazine claims that Daniels, after the interview, reportedly took and passed a polygraph test, which is meant to detect when a person is lying. Daniels' story was also confirmed by a friend of hers, as well as her ex-husband, both of whom took and passed polygraph tests, as well. Here's a collection of the strangest details from the interview:
Trump Told Daniels She Reminded Him Of His Daughter
Daniels told In Touch Weekly that Trump never mentioned his wife, Melania, but spoke about his daughter often. (She didn't clarify which daughter, but I'm assuming his eldest, Ivanka.) "He bragged about his daughter quite a bit," Daniels said. She continued:
He was very proud of her, which is nice. He told me once that I was someone to be reckoned with, beautiful and smart just like his daughter. She is smart and beautiful, so I guess that's a compliment. But as far as family, that's all he ever said. He definitely is very proud of her, as he should be.
Trump Reportedly Explained Why He Wouldn't Change His Hairstyle
Daniels told In Touch Weekly that she'd asked Trump if she could ask him an offensive question the first time they had dinner. She continued:
I asked him about his hair. I was like, "Dude, what's up with that?" and he laughed and he said, "You know, everybody wants to give me a makeover and I've been offered all this money and all these free treatments." And I was like, "What is the deal? Don't you want to upgrade that? Come on, man." He said that he thought that if he cut his hair or changed it, that he would lose his power and his wealth.
Trump Is Reportedly Scared Of Sharks
This is probably one of the details that people have enjoyed most from Daniels' 2011 interview, and it's easy to see why. "He is obsessed with sharks. Terrified of sharks," Daniels told In Touch Weekly. Trump reportedly told Daniels that he would never donate to any charities that helped sharks — and that he hoped they would all die.
"He was like riveted ... obsessed," she said. "It's so strange, I know."
Sex With Trump Wasn't Particularly Memorable, & He Asked For Daniels' Autograph Afterwards
As for details you never wanted to know? "The sex was nothing crazy," Daniels told In Touch Weekly. "It was one position. I can definitely describe his junk perfectly, if I ever have to."
After they first allegedly slept together, Trump reportedly asked for Daniels' autograph on one of her adult film DVDs. Gah.
It Happened More Than Once, While Trump Was Married
Asked if she had a message for Trump after the alleged affair occurred, Daniels simply said: "Karma will always bite you in the ass."
Considering that more than a dozen women have already alleged sexual misconduct from the president (accounts which Trump has repeatedly denied), many doubt that the Daniels story — of a consensual affair prior to the presidency — will harm Trump. But hey, if I can't un-read those details, then I'm sorry, but neither can you.
Check out Romper's new video series, Romper's Doula Diaries:
Watch full episodes of Romper's Doula Diaries on Facebook Watch.