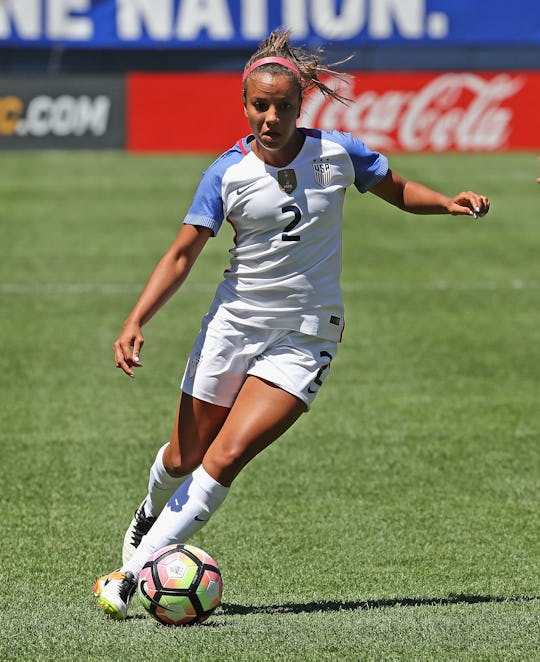 Jonathan Daniel/Getty Images Sport/Getty Images
6 Facts About Mallory Pugh, The Youngest Soccer Player To Score At The Rio Olympics
Oh, to be 18 years old again, right? Not just any 18-year-old either, but Mallory Pugh-style. Pugh is the youngest member on the U.S. Women's Soccer team and scored her first Olympic goal in Rio on Tuesday night. So in case you need to obsess over just how awesome she is, here are some incredible facts about Mallory Pugh that you can use to talk her up over Olympic chat in the coming weeks, even if you're not a big soccer fan.
The U.S. Women's Soccer team roster is made up of crazy, amazingly athletic, and all-around role model types: Not only are they the 2015 Women's World Cup winners, the team is full of women who also know how to respect their bodies, rock their skills, stand up for themselves, which is something I just want to bottle and hand out to every woman I pass on the street.
Like goalkeeper Hope Solo, who was booed for complaining about Zika but still managed to play an amazing first game. Or the four players who tried to organize a strike and are leading negotiations with the league because they found out they were getting paid way less than the men (who, don't tell anyone, are nowhere near as good at soccer).
Pugh's in good company. Here are a few fast facts about the new player:
She Loves To Hang With Friends
Because who doesn't?
She Knows How To Score
Pugh played her first game with the team this January. She was called in at the 58th minute and scored her first goal with a header to win 5-0 against the Republic of Ireland.
She's Already Breaking Records
Pugh is the second youngest Olympian in U.S. history to to play at the games and score a goal. She's just one month younger than Cindy Parlow was in 1996 when the U.S. won gold in Atlanta. (I told you U.S. Women's Soccer didn't fool around.)
She Tried To Play It Cool
According to her mom, Karen, the Colorado native tried to play off her excitement when she got the call to join the team in Rio. Her mom told the New York Post, " "She wasn't trying to act too excited. She was like, 'Well, I'll tell you after the flight,' just jokingly. Then she just put her Beats on, her hood up and slept for the next two hours."
She's Loving Rio
Even though she pretended it was NBD, Pugh told The Denver Post when she landed that she was loving Brazi. "Just seeing how huge the Amazon River is for the first time, it's so big it's crazy. I've got to admit. I never thought I would be playing soccer in the jungle," she said.
She Remembers Where She Came From
Her mom told The New York Post in the same article that Pugh was "frazzled," juggling high school, prom, and still managing to play with high school team, Mountain Vista, this spring. "... Just having the support from my high school and my club to be able to do that has really helped me succeed in that kind of environment," she said.
With all of those good vibes and dedication to the game, it looks like Pugh is one of those players we're all going to see again in four years.