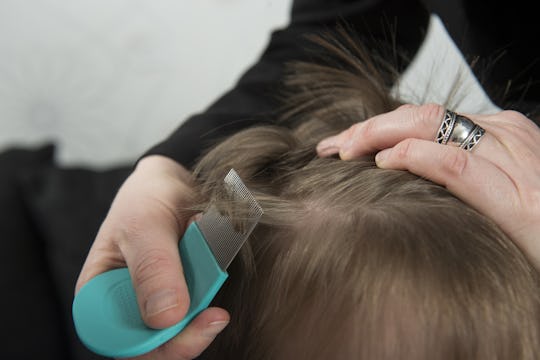 vichni/Shutterstock
8 Things Teachers Want Parents To Know About Lice In Winter, Bc Tis The Season
Some things are fun to share during the winter: turns on the sled, cups of cocoa, big blankets on the sofa, warm hugs. Other things, I could do without — and one of them is lice. As a teacher and a mom, I've seen more than my share of the little critters, and almost all of the cases occurred during the cold-weather months. So there's a lot that teachers want parents to know about lice, now that school is back in session.
It may make your head itch just to read this, but lice are almost as common as colds among the school-aged set. According to the Centers for Disease Control, an estimated six to 12 million kids between the ages of three and 11 are infested every year; that's a lot of lousy heads. So it pays to know the basic facts: Lice spread when adult bugs crawl (they don't hop or fly) from head to head, where they lay eggs close to the hairline. The young lice, called nymphs, emerge, feed on blood from the scalp, and grow into adults in about one to two weeks. The eggs, or nits, can look like dandruff, but they don't brush off the way skin flakes do. Adult lice live about 28 days, laying about 10 eggs per day, explained the American Academy of Pediatrics (AAP). So it's easy to see how big of a problem they can be if not treated promptly.
Lice have no dormant period, so they're active all year long; however, winter and summer are both popular times for infestations because children are in close contact during school and summer camp. We teachers always pray to get through a semester without a lice outbreak, but our prayers aren't always answered. Here's what we hope you'll keep in mind during the cold-weather lice season.