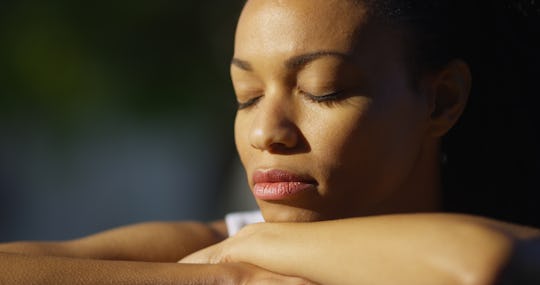 Fotolia
8 Things You Realize When You Learn The Difference Between Self-Reflection & Self-Doubt
As the year comes to an end — and what a year it's been — it's only natural to take inventory of the good, the bad, and everything in between. After all, we live in a culture where listicles help us categorize information and process it on the way to becoming our best selves. As you compile your best and worst of 2016, bear in mind that you're more than a tally of your accomplishments and disappointments. I say all this not as a self-proclaimed guru, but as a woman who has spent much time being introspective. Things you realize when you learn the difference between self-reflection and self-doubt can help you live a more integrated life, and teach you how to love yourself without abandon.
Self-doubt often gets confused with low self-esteem when, in fact, the two are quite different. According to psychologist Karyl McBride, who writes for Psychology Today, self-esteem exists on a continuum and can be defined as when you have a "decent opinion of yourself without grandiosity." So, you can have high self-esteem and still be plagued by self-doubt.
From childhood, I was always questioning myself. Am I good enough? Pretty enough? Smart enough? Lovable enough? Then came the teenage years, and a slew of other questions. Am I sexy enough? Smart enough to ace my SATs and get into a respectable college? Lovable enough to be popular? By the time I was in my 20s, those questions had become integrated into my understanding of who I was as a person. Rather than evolving as I evolved, the questions of being [insert anything here] grew more and more complicated. Am I smart enough to land a publishing job? A book deal? A graduate degree? Am I lovable enough to find a partner who can make me feel seen? All of my dreams and accomplishments and even disappointments were ruined by these qualifiers. Rather than getting a chance to bask in the moment, self-doubt rained on my parade. So, when I did secure a book deal, more questions ensued. Am I going to sell well? Get good reviews? Get another book deal? Even when I didn't land a job, I wasn't able to learn from the experience because I took everything that happened to me and saw it only in relationship to the questions of self-assessment that had been ruling my existence. Life was kind of a bummer.
There was no one "epiphany moment," but this year something clicked for me. I found a way to let go of the self-doubt. As a result, I realized the following things, which came from self-reflection as opposed to striving to be "good enough" (and looking for reasons I wasn't).