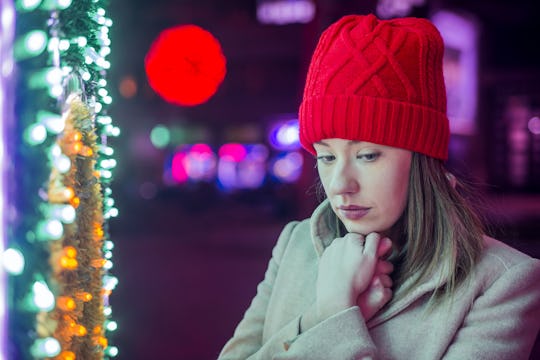 Fotolia
8 Ways To Spend New Year's Eve When You're Trying To Conceive
There are lots of articles written for expectant mothers on how to spend New Year's Eve, but what about women trying to conceive? Resources on ways to spend New Year's Eve when you're trying to conceive are far and few between. Why? Maybe it's because our culture isn't quite sure how to talk about infertility, or the challenges, for some women, that come with getting pregnant. Plus, it's safe to say no one wants to have an uncomfortable conversation about women's health on the most rockin' night of the year. But what about the women going through the emotional ups and downs of trying to conceive? How are we supposed to deal with life, and the struggle to make a new one, on New Year's?
I never thought I'd be one of those women struggling with conception. (What does one of those women even mean? According to The National Infertility Association, 7.4 million women struggle with infertility in America today.) The struggle is real. Like depression or addiction, challenges associated with trying to conceive (TTC) are worse around the holidays. The past couple weeks, I've burst out crying when I've see an infant wearing a mini-Santa hat. I hear news of other friends getting pregnant, and I find myself fighting that pang of jealousy and feeling like a monster for begrudging someone else's joy. However I got here, two miscarriages and many failed attempts at motherhood later, I'm here. It sucks.
So, happy New Year, right? If you hated New Year's as a normal person, try it when you're TTC. Part of me is hopeful: with the New Year comes a new chance at making my dreams come alive. Another part of me is straight up bitter and afraid: what if this doesn't happen for me? Why is everyone and their mother pregnant? Why not me?
To get through New Year's Eve, I'm guessing I have to find a happy medium between the two aforementioned states of mind. I don't want to ring in the New Year with feelings of anxiety about things beyond my control. I also don't want to ignore this debilitating fear that 2017 is not going to bring me a baby. If this year has taught me anything, it's that stuffing feelings does no one any service.
What can I do? Playing party girl doesn't hit the right chord, but that doesn't mean midnight yoga is my only option. The following are ways to spend New Year's Eve when you're TTC. Oh, and if you're in the same party boat as me, girl, you're not alone.