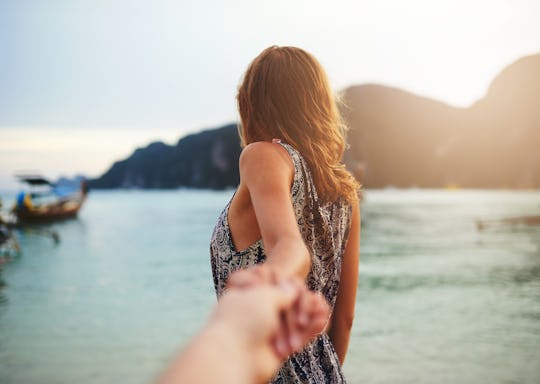 PeopleImages/E+/Getty Images
9 Signs You Might Be Married To A Psychopath, According To Experts
When entering into a marriage, nobody thinks they're marrying a psychopath. If you've been with someone for long period of time, you think you know their best and worst qualities. But sometimes you end up marrying someone and their worst qualities don't come through until after the "I do." If you have suspicions about your partner's behavior, there are some signs you're married to a psychopath that you might not have recognized at the beginning of your relationship, but can be on the lookout for going forward.
Unlike a lot of other mood and behavioral disorders, psychopathy isn't something that a person can be clinically diagnosed with. "The closest formal diagnoses to psychopathy are probably antisocial personality disorder and narcissistic personality disorder," psychologist Peter Langman, Ph.D., tells Romper. "Some psychopaths are chronically belligerent and abrasive, creating conflict wherever they go; others are charming, charismatic, and deceptive. They can be very likable and attractive at first." Whether they show some of their true colors from the start or they initially sweep you off your feet, "the more time spent with them, the more likely that their narcissism, lack of empathy, and disregard for moral behavior will be evident."
Still, someone who is labeled psychopathic likely demonstrates some signature behaviors. What sets psychopaths apart is their narcissism and use of manipulation. In an email to Romper, psychologist Timothy J. Legg, Ph.D., Psy.D., explains that "deceit and manipulation are the central features of [psychopathy]" and "individuals with this disorder are often excellent at explaining why the problems they experience have been caused by others." These behaviors in and of themselves are problematic in a marriage, but that's not even where the list of signs ends.
It's important to understand that "psychopathy exists on a spectrum," says Langman, meaning there are varying degrees of intensity a psychopath may display in their behavior. Still, even mild behaviors should be taken very seriously, because "this is a notoriously difficult condition to treat."
"Safety is always your main concern" if you're married to a psychopath, says Legg, so seek professional help on your end before trying to address the topic with your partner. All of that being said, here are some behaviors that could be red flags.
This article was originally published on