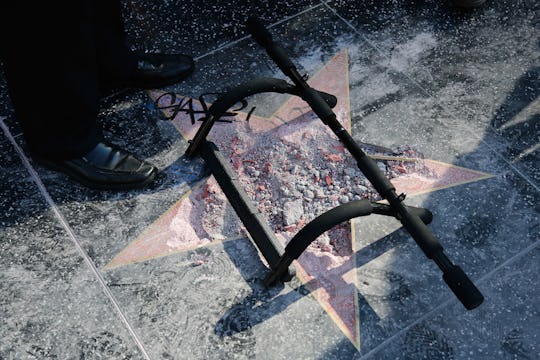 Katharine Lotze/Getty Images Entertainment/Getty Images
You Won't Believe Who Bailed Out The Guy That Destroyed Trump's Walk Of Fame Star
If the following news story teaches us anything, it's that when someone commits a crime in the form of a prank, they gain a sense of camaraderie with others who later commit the same prank/crime. Two anti-Trump men recently proved this, and it's a strangely beautiful story. Reportedly, the man who attacked President Donald Trump's Hollywood Walk of Fame star this week was bailed out of jail by a man who committed the same crime in 2016. Full circle, baby!
Before the sun had even risen over Los Angeles on Wednesday morning, Austin Clay, 24, took a pickax to the Celebrity Apprentice host's star on the Hollywood Walk of Fame, TMZ reported. Eyewitnesses told the outlet that Clay concealed the pickax in a guitar case before going ham on Trump's star, circa 3:00 a.m. In photos and footage that TMZ shared, the star was demolished to pieces. Clay reportedly turned himself into the police, and he was taken to jail "on suspicion of felony vandalism" where he was held on $20,000 in bail money, the Los Angeles Times reported. So naturally, James Otis, the man who also destroyed Trump's star back in 2016, stepped up to the plate and bailed Clay out.
Almost two years ago, Otis, who is the heir to the Otis Elevator Company fortune, surrendered himself to the police after demolishing Trump's star in October 2016, NBC Los Angeles reported. He was 52 at the time, and avoided a jail sentence by paying a $4,400 fine, completing 20 days of community service, and remaining on three years of probation, the Daily Mail reported in 2017.
"It was an act of civil disobedience, freedom of expression," Otis told NBC at the time. "I did it, and I'm very happy I did it, and I'm proud that I did it." He also shared the reason he destroyed the star in the first place: he wanted to extract the star, sell it, and donate the profits to the the 11 women who accused Trump of sexual misconduct, NBC reported.
Considering Otis' strong feelings (and the fact that he is an heir), it makes sense that he is forking up the $20,000 to bail the like-minded Clay out of jail. Not to mention, TMZ reported that Otis wants to meet Clay after bailing him out. Oh, the schemes they'll come up with together!
For those who experienced a rare moment of peace at the thought of Trump no longer having a star on the Walk of Fame, I'm sorry but I'm about to be the bearer of bad news. Just as they did in 2016, officials have already replaced the star. Womp-womp.
After news of Clay destroying the star broke, many Trump critics voiced their amusement on Twitter. "Donald Trump's star on the Hollywood Walk of Fame was destroyed to pieces," tweeted a parody Severus Snape account. "Trump is down to six Horcruxes."
"I found out who smashed Donald's Trump star," joked another Twitterer, sharing a photo of Ariana Grande brandishing a sledgehammer from her "God Is A Woman" music video.
"Quick question: Is the man who vandalized Trump's star on the Hollywood Walk of Fame single?" comedian Chelsea Handler wondered.
Star Wars actor Mark Hamill wanted fans to know that he was not responsible for the vandalism. "It may look bad, but I have an IRON-CLAD ALIBI: I was puppy-sitting & both Millie & Mabel can vouch for me," Hamill tweeted. "Plus-I demolished @jimmykimmel's ⭐️w/ hydraulic-drill NOT a pick axe!" he added, referring to the time he destroyed Jimmy Kimmel's star in a sketch on Jimmy Kimmel Live.
Here's hoping Clay has the funds to pay it forward next time someone destroys Trump's star.