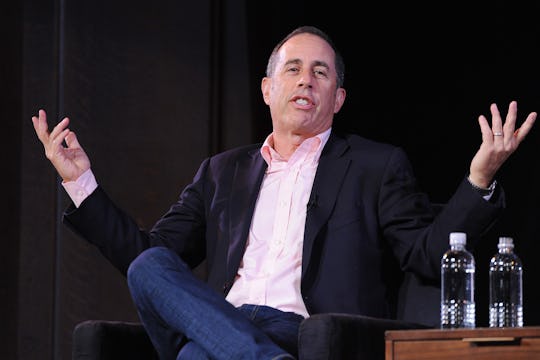 Craig Barritt/Getty Images Entertainment/Getty Images
A 'Seinfeld' Reboot Could Be In The Works, So Start Preparing For "Nothing" Now
If a show has been popular at any point in the last 50 years, then odds are it's up to be rebooted. Seinfeld's somewhat unsatisfying ending has led many viewers to wish for a reunion since it went off the air in 1998, but the possibility always seemed unlikely — until now. Jerry Seinfeld hinted that a Seinfeld reboot could happen, which is something fans will be happy to hear.
Seinfeld made an appearance on The Ellen DeGeneres Show in which he seemed more open to Seinfeld returning than he had in times past. During the interview, Ellen asked if the show could come back, especially now that other 90s classics like Will & Grace, Murphy Brown, and Roseanne are finding new life. Us Weekly reported that Seinfeld answered without hesitation, "It's possible!"
That's a definite change from answers he's given previously. Seinfeld has fielded questions about a reboot before, but it always seemed clear that he wasn't particularly interested in revisiting his hugely successful sitcom. In 2016, he told The Hollywood Reporter that even though they'd had an offer to do a live episode of Seinfeld, it wouldn't happen. When asked if any part of him considered it, Seinfeld laughingly said no.
He reiterated that stance when talking to Entertainment Tonight in September of last year. "Why [bring the show back]?" he said. "Maybe it's nice that you continue to love it instead of us tampering with something that went pretty well."
It's not immediately apparant why Seinfeld changed his mind. Perhaps seeing how positively audiences have responded to rebooted shows made him reconsider. Maybe he just wants to work with his old pals again. Maybe he's totally kidding (he is a comedian, after all) and he got so bored giving the same negative answer time after time that he decided to have a little fun with it. "It's possible" isn't really the same thing as "it's happening," so it gives him a lot of leeway if a reboot never comes to fruition. At this point nothing concrete seems to be in the works, and it's uncertain whether any of Seinfeld's former co-stars would even be down for returning to the show.
It wouldn't actually be the first time the cast reunited since Seinfeld's finale. Fans already got a taste of what a reboot might be like during a story arc on Curb Your Enthusiasm in 2009. Slate reported that The 70s Show star Topher Grace edited together the snippets of the faux Seinfeld reunion from Curb Your Enthusiasm to form a semi-complete story, giving fans an idea of what they might expect from a reunion (and creating a mini sitcom Inception in the process).
The edited footage is surprisingly seamless, recapturing the humor of Seinfeld without missing a beat. The plot of the faux reunion mirrored Larry David's attempts to win back his ex-wife Cheryl, who he cast in the role of George's ex-wife Amanda. The difference was that George wanted to get Amanda back so that he could have access to her money after losing his own in Bernie Madoff's Ponzi scheme. Jerry and Elaine, meanwhile, bickered over whether or not to tell her daughter that Jerry was her biological father.
That was almost a decade ago, but it seems like with the full team back in place, the magic of Seinfeld could be recreated. At the time, Seinfeld told Entertainment Weekly that it was fun working and writing with David again, and that it came easily to do so. But the specific circumstances of doing the storyline on Curb Your Enthusiasm helped, with Seinfeld saying:
"Doing it with Larry and on his show just seemed like the only possible way it would be fun... We would never do the type of thing that these shows usually do. That wouldn't be our style. But something like this — that was sillier and a little more offbeat — felt like it might be right for us."
Seinfeld may have been reluctant to revisit the show in years gone by, but he seems to be revising his opinion. Seinfield might not be back on your screens anytime soon, but if you're excited by the thought, then comfort yourself with the knowledge that it's definitely possible.
Check out Romper's new video series, Romper's Doula Diaries:
Watch full episodes of Romper's Doula Diaries on Facebook Watch.