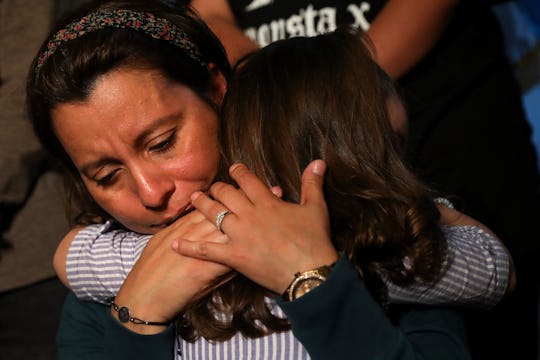 Drew Angerer/Getty Images News/Getty Images
Here's The Latest Update On The Reunification Of Immigrant Families
On June 26, a federal judge ordered the Trump administration to cease separating migrant families seeking asylum at the border, and reunify all those who had previously been separated. The judge imposed a deadline of 14 days to return all children under 5 to their parents, with the remaining children to be returned within 30 days. Now, both deadlines have passed, and although the Trump administration insists that the court order has been fulfilled, yet about one third of the immigrant children have still not been reunited with their families, according to CNN.
On Thursday, Department of Health and Human Services chief of staff Chris Meekins stated, "By the court deadline this evening, we are on track to reunite all eligible parents within ICE custody," according to the New York Times. The key word here is "eligible," however, and many advocates are questioning the authenticity of such determinations. As the Times noted, there have been many reports of failed reunifications, and the accuracy of the government's accounting has also been called into question, as official reports from the government have switched back and forth between tallying the parents and tallying the children.
In early July, according to PBS NewsHour, HHS stated that it will no longer disclose the exact number of children in its custody. All told, nearly 50 parents of children under 5 were determined to be ineligible, as well as over 700 parents of kids ages 6 through 17, according to the Times.
The parents of about 431 children have reportedly been deported without them, and the government has yet to find those parents. Another 94 parents' locations remain "under case file review," according to court records obtained by the Times. "These parents and children have lost valuable time together that can never be replaced," said lead counsel for the American Civil Liberties Union Lee Gelernt in a statement. "We're thrilled for the families who are finally reunited, but many more remain separated. The Trump administration is trying to sweep them under the rug by unilaterally picking and choosing who is eligible for reunification. We will continue to hold the government accountable and get these families back together."
On Wednesday, the ACLU filed a motion on behalf of parents whom the government has claimed had waived their rights to reunification with their children. The group says that some of these parents said they didn't understand what they were signing, because the documents weren't translated into their native languages. Others reportedly said they'd been forced to sign the documents under duress. Most of the parents are still in ICE custody. Former acting director of ICE John Sandweg believes that those families that remain separated may never be reunited. "There is a very high likelihood that those parents are not going to see their children again," he said, according to the BBC.
The ACLU is working to track down the deported parents that the government has failed to locate, but during press call on Thursday, Matthew Albence, executive director of ICE Enforcement and Removal Operations, claimed that the parents may not want their children back, according to USA Today:
A lot of these parents ... the reason these parents are coming here in the first place and paying these smugglers $5,000 and $6,000, $10,000 to make that dangerous journey across Central America and Mexico is because they want to get their children here. And once their children are here they are generally not going to want to give up the opportunity to have that child remain here in the country which is why they frequently decline to have that child removed with them.
But some report waiving their rights to their kids under duress. One such mother, Lourdes Marianela DeLeon of Guatemala, told The Arizona Republic, that she was promised that she'd be reunited with her son in two months if she agreed to be deported immediately.But, as USA Today reported, despite an immigration judge granting him voluntary departure, he's still in government custody and hasn't been sent back home to his mother.
"The only thing I want is that they send me my son," she said.
The American Immigration Council provided Romper with the following statement from executive director Beth Werlin:
The government's failure to comply with the court order to reunify the thousands of separated children and parents confirms the administration's utter disregard for the humane and fair treatment of families coming to our country in search of protection. We have grave concerns about the large number of parents who have been coerced into signing papers ensuring their deportation. Many signed these papers without knowing what their options were and without first consulting an immigration attorney.
No one should be forced to make decisions about their deportation or potential indefinite separation from their children under these circumstances. The U.S. government must ensure that no asylum seeker is pressured to waive their rights and prevented from having a fair day in court.
U.S. District Court Judge Dana Sabraw will hold a hearing on Friday evening to determine whether the government met the deadline, according to Reuters, and to consider a motion filed by the ACLU asking that reunified families be allowed to stay in the country for at least seven days before being deported, in order to give them time to discuss their legal options. The administration is fighting the motion.
Even if and when the remaining families are reunited, there's still no guarantee of a happy ending, because they may still be deported, or held together in a family detention center, rather than being granted asylum. If you want to help, you can make a donation to the ACLU, Kids In Need of Defense, or the Refugee and Immigrant Center for Education and Legal Services (RAICES).