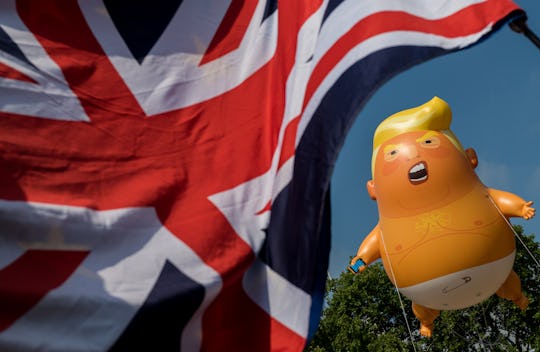 Chris J Ratcliffe/Getty Images News/Getty Images
You Need To See The Video Of A Trump Baby Blimp Flying Over The UK
After the White House announced in April that President Donald Trump would be making a week-long state visit to the UK, those opposing his administration began making plans to protest. But while current the anti-Trump demonstrations certainly come in a variety of shapes and sizes, there's one in particular that really stands out. A Trump baby blimp took flight over London Friday as the president prepared to meet with Queen Elizabeth II, and while the 20-foot inflatable that depicts the POTUS as a grumpy, orange, diaper-clad infant holding a cell phone might not be the most dignified way to make a protest statement, those behind the blimp have explained that it was actually a conscious decision to design it that way. Because while the president has long made it abundantly clear that he's not easily ruffled by traditional opposition, he does seem to be bothered when people poke fun at him.
The Trump baby blimp was an effort organized by a group of 16 people who were looking to make a big impact with their protest statement. And it certainly seems like they've succeeded: after raising more than $26,000 in a fundraising campaign, according to The Hill, they were granted permission by London city officials last week to fly the blimp over the city for two hours during his visit. As for its actual impact, it sounds as though the blimp is one of the reasons Trump's UK itinerary has largely been arranged to keep him out of the urban center: he told The Sun, "I guess when they put out blimps to make me feel unwelcome, [there's] no reason for me to go to London."
Nona Hurkmans, one of the activists behind the baby blimp, told The Independent earlier this month that she and her fellow organizers are "just a small group of friends who set out to use humor to take a stand against the rise of racist and fascist politics." Yet in a separate interview with MSNBC Wednesday, Hurkmans explained that the Trump blimp wasn't simply about being funny:
What we were considering when we were planning this protest is what would have an effect. So we've seen that moral outrage doesn't work with Donald Trump, he just harnesses that outrage to blame-shift onto the people who he is outraging. Just normal diplomacy doesn't work with him, reasoning doesn't work with him, but he really hates being mocked. So that definitely came into play when we were designing the blimp.
As for the decision to compare Trump to a baby specifically? Well that was intentional, too. Hurkmans said,
We went with a baby because we feel that Trump has a lot of the characteristics of a baby, such as throwing your toys out of the pram, or throwing tantrums. And we think that those qualities are very problematic for the leader of a nation.
The baby blimp was far from being the only protest organized around Trump's visit though. While in Brussels for the NATO summit ahead of his trip, Trump told reporters, "I think they like me in the UK. I think they agree with me on immigration," according to CNN. But upon his arrival in England Thursday evening, the president was actually met with chants and boos from hundreds of protesters outside of the United States Ambassador's residence at Regent's Park, before he embarked by helicopter to Blenheim Palace for a black-tie dinner with UK Prime Minister Theresa May.
And just in case that weren't already clear enough, an unnamed artist reportedly paid the owner of a field at Moat Farm in Stoke Mandeville to let him create a 650-foot crop circle carrying a Russian message that basically translates to "f**k Trump," according to The Huffington Post. And this time, it sounds like the POTUS couldn't help but see it: it would have been visible out of the left window of the president's helicopter en route to meet with May at Chequers, the prime minister's country house.
Despite all the attention and applause given to the Trump baby blimp though, the organizers have faced one big setback: according to The Independent, they have been unable to get permission to fly the blimp over the president's golf course in Scotland, where he's expected to visit Friday evening following a meeting with the Queen at Windsor Castle.
One hopeful consolation for anyone hoping to see the blimp live on and appear elsewhere? Organizer Leo Murray told The London Evening Standard that he still intends to fly the blimp in Scotland this weekend, one way or another, and that the group also intends to resurrect the Trump blimp each time the president heads to a foreign country for a state visit. In other words? Friday's protest certainly doesn't sound like the last time the president will have to contend with his giant, baby doppelgänger.