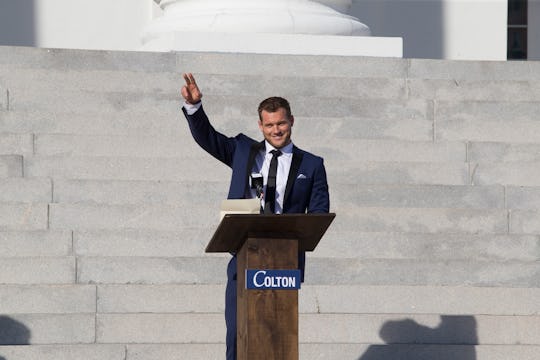 Paul Hebert/ABC
'The Bachelorette's Becca Isn't The First Girl Colton Brought Home After All
One of the most appealing things about Colton Underwood this season on The Bachelorette was what seemed like his honesty and sincerity. And when he brought Becca Kufrin home for hometown dates, it seemed like a really big deal because he said he'd never done that before. However. It turns out that Aly Raisman was the first girl Colton brought home and Bachelorette fans on Twitter are calling him out.
Colton claimed during the hometown dates episode that Becca was the first woman he'd ever brought home to meet his parents. He made such a big deal about it that Becca seemed really nervous going in to meet his family. Which, by the way, consisted of way too many people for the first time you're bringing your girlfriend home to meet them. But maybe that's just me. Maybe this was a ploy to make Becca feel special and therefore make Colton look like a total sweetheart, but the truth is that he totally brought his ex-girlfriend Aly Raisman home to stay with his family in 2016 and apparently lied about it to Becca on The Bachelorette.
In the tweet, you can see Colton with Raisman and his family in a few different pictures. There's even one where they having matching pajamas on. That's right — matching Christmas PJs for all to see. So not only is Becca not the first girl Colton took home to meet his family, but when Raisman came to meet them, she got to stay over.
Apparently, the photos were deleted from social media a while ago, but since Bachelorette fans are known for being top dogs of the internet sleuthing world, you'd better believe those photos surfaced during the episode. Just in case that isn't enough, though, Raisman herself revealed in a January 2017 interview that she'd spent a great deal of time with Colton's family at one point.
The couple had visited a children's hospital in Peoria, Illinois together and Raisman revealed to the Journal Star that she'd been staying at Colton's grandparents' house. "I'm here for a couple of days, and I'm excited," the Olympic gold medalist said at the time. "I haven't been here as much as I've wanted to, but I've been to [Colton's] house in Denver a couple of times, too… I think it's a really nice area. I'm with his grandparents right now, and their house is very warm, very cozy, which is important for me. It's nice not to be in a hotel. If I can't be at home, it feels like I'm home here."
There's nothing wrong with bringing home more than one significant other to meet the family if you have strong feelings for each one, so why lie? Was Colton's goal to simply come across as someone too innocent to be deceitful? Or did he want to downplay his relationship with Raisman as much as possible? Either way, it doesn't make Colton look good in the eyes of Bachelorette fans, especially those who may have been rooting for him before this big revelation.
Now that Colton's time on The Bachelorette is over, it doesn't really matter what his romantic history is or whether or not he's been lying about anything else he revealed about himself. So maybe it's a good thing that Becca sent him home ahead of the fantasy suite dates. Seriously though, before all of this, I was legit rooting for the guy.