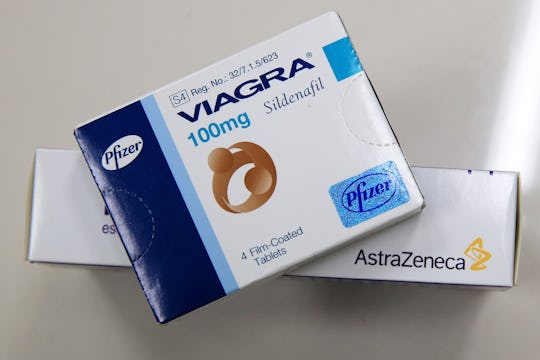 Christopher Furlong/Getty Images News/Getty Images
Nearly A Dozen Babies Died After Researchers Asked Pregnant Women To Take Viagra
For people with high-risk pregnancies, there's a dearth of medications that are deemed safe enough to treat complications. In an effort to address that absence, scientists in the Netherlands began conducting research into alternative uses for a drug commonly used to treat erectile dysfunction. But after nearly a dozen babies died, the Dutch researchers ended a trial with Viagra and pregnant women that attempted to improve fetal growth.
The pregnant women enrolled in the trial, which occurred at more than 10 hospitals across the Netherlands, had fetuses that were severely underdeveloped and already faced a high risk of stillbirth or dying after birth, according to The Guardian. The trial, led by Amsterdam University Medical Center and scheduled to run until 2020, was then designed to see if sildenafil — better known as Viagra — could be a safe and effective treatment that would improve placenta function and boost fetal growth.
More than 180 pregnant women were enrolled in the trial, 93 of whom were given Viagra and 90 on a placebo. Among the participants given sildenafil, 17 babies developed lung disease researchers linked to to the drug, and an increased fatality risk, The Guardian reported. Eleven of those babies had died after birth, leading AUMC to stop the experiment, a decision it announced earlier this week.
Lead researcher Wessel Ganzevoort, a gynecologist, told the Dutch daily newspaper De Volkskrant, according to The Guardian:
We wanted to show that this is an effective way to promote the growth of the baby. But the opposite happened. I am shocked. The last thing you want is to harm patients.
Ganzevoort continued:
We have already notified Canadian researchers who are conducting a similar study. In any case, they have temporarily stopped their research.
Romper reached out to Amsterdam University Medical Center for comment, but did not hear back in time for publication.
Nine babies born to mothers given the placebo did die after birth, but none of them had developed lung problems, according to CNN. Three babies born to women treated with the placebo, though, did have the lung disorder, but they survived, CNN reported. (Pfizer, the maker of Viagra, had no involvement in the trial, which started in 2015, a company spokesperson told CNN.)
The safety and efficacy of Viagra in the treatment of pregnancy complications are cloudy at best. Although the AUMC trial was backed by an experimental animal study, research conducted in the United Kingdom and published in December found no adverse effects of the drug, but also found no benefits, according to CNN. There was also no difference shown in neonatal deaths.
Still, doctors do prescribe Viagra to pregnant women with complications for off-label use. Ganzevoort told De Volkskrant, according to The Guardian:
It was buzzing at conferences. Foreign colleagues let slip that they sometimes prescribed it, with good results. I have experienced in my own consulting room that pregnant women asked for it. Whether they have ordered it via the internet? I do not know. Who can know?
The news of the deaths is no doubt alarming, but the situation does highlight the issues around pregnancy complications, treatments, and research. There are, of course, ethical concerns around involving pregnant women in clinical trials because of the risk of neonatal death due to a drug not yet proven safe. At the same time, the lack of research involving pregnant women puts babies at greater risk because parents-to-be end up using medications off-label as a last-ditch effort to address complications that have no proven treatments on the market.
If nothing else, the failed AUMC trial should open up a much-needed conversation on how to better address the lack of research around treating pregnancy complications.