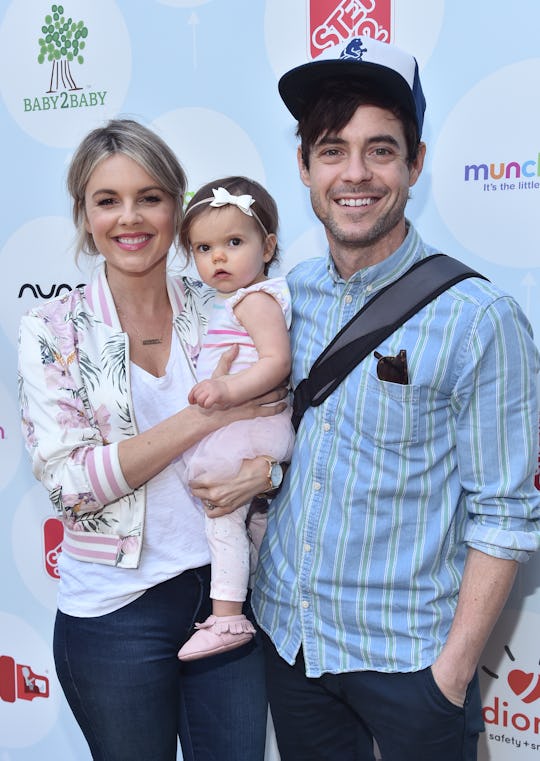 Alberto E. Rodriguez/Getty Images Entertainment/Getty Images
Ali Fedotowsky Is Done Having Babies For *This* Reason
When viewers of The Bachelor were first introduced to the very adorable and easily lovable Ali Fedotowsky, back in 2010, it's unlikely that they predicted where she would be now. Eight years (and a stint as The Bachelorette) later, Fedotowsky isn't married to someone from "the Bachelor nation" and has two kids with her husband, Kevin Manno. Turns out she loves the post-bachelorette life, but if fans thought that Fedotowsky would want to change her life even more by expanding her family, they shouldn't count on it. In a new interview, Ali Fedotowsky said she's done having babies and she means it.
Even though Fedotowsky and Manno's kids — 2-year-old daughter Molly and 2-month-old son Riley — are absolutely adorable and any other addition to their family would be just as cute, Fedotowsky is o-v-e-r having children. And she spelled that out perfectly for Us Weekly during a red carpet appearance on Thursday night. Don't get me wrong, Fedotowsky loves her kids and she loves being a mother — she just doesn't love the nine months of being pregnant or everything that comes with labor and delivery.
To put it bluntly, Fedotowsky told Us Weekly that there was "no way in hell" that she would be welcoming a third child with her husband any time soon, or like, ever.
Fedotowsky explained that she is positive about her decision to never have another kid, or experience labor and all that comes with it ever again, telling Us Weekly:
We're talking about vasectomies. Like, we are done. I've done enough, OK? I've been through pregnancy, labor. He can do something this time. Yeah, no. We're having those conversations. We don't want more than two. The thing is, a vasectomy is reversible...but, like, we're like certain we don't want one, even though I say, never say never.
The memory of going through labor is very fresh for Fedotowsky, especially since she just gave birth to her son, Riley, this past May, and her daughter just celebrated her second birthday, according to Us Weekly. So, you can understand why she wouldn't want to relive the labor and delivery process again, so soon after she just went through it.
But, Fedotowksy clearly loves being a mother — she blogs about it weekly on her website, Ali Luvs. On her website, Fedotowsky blogs about everything from her feelings about social media, to her tips for interior decorating, to even recapping some familiar territory (aka recapping episodes of The Bachelorette), to talking about motherhood. It's this honesty and openness with fans that makes her so relatable and is a reason why fans would still be in to following along with her journey, eight years after her time on The Bachelorette was over.
And Fedotowsky continued being so relatable, opening up to Us Weekly on Thursday about how hard being a mother of two young (and not potty trained kids) really is. Fedotowsky said, according to Us Weekly:
Right now, it's the type of thing where I'm losing my cool, and like, the second my husband comes in the door, I'm, like, crying and being like, "Take him!" I'm like "I need five minutes to shower." I used to never understand when moms said, "I have no time to shower," because I had one kid, and I was like, "It's easy." I'd put her in the bassinet, and I'd jump in the shower. You can shower. Now I get it. With the two, there's no showering to be had.
Hearing Fedotowsky say that, it's understandable why she would want to be done with having kids.
It's worth it to have more time to focus on her kids, her relationship, and to shower.