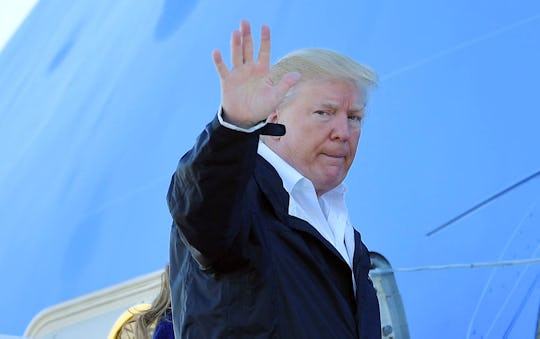 MANDEL NGAN/AFP/Getty Images
Here's A List Of All Of Trump's Comments On Puerto Rico So Far
On Tuesday, President Donald Trump traveled to Puerto Rico to survey the damage there following Hurricane Maria. His visit came after previous comments he made — about leadership there, and some negative comments about the island itself — that drew a backlash from fellow political leaders as well as celebrities with ties to the United States territory. All of Trump's comments on Puerto Rico on Twitter and in the news really need to be read to believed, because it's tough to think about a president saying these things about an island and its people who are dealing with devastation that could take years to recover from.
Trump went to a briefing held at an air base in Puerto Rico on Tuesday, where he seemed "determined to salute his team and soak up praise," according to The New York Times. And he praised the officials in the area as well — because they didn't let Hurricane Maria become "a real catastrophe," in the way Hurricane Katrina did in 2005.
That's right. Despite the fact that 16 people died in Puerto Rico as a result of the storm, in Trump's words, it's not a real disaster. Keep in mind that that death toll has not been updated in several days, and it's likely that the number will rise. But who knows how high it would have to go for Trump to consider what happened there a "catastrophe" — he compared the current number of deaths there to the "literally thousands" who died as a result of Hurricane Katrina, so apparently that's at least how bad it needs to be for him to think Hurricane Maria was a true disaster for Puerto Rico.
It's probably a good time to look at some of the other comments Trump has made about Puerto Rico, because this isn't the first time he's made less-than-presidential remarks.
Sept. 20: Trump Tweets Governor Of Puerto Rico
Hurricane Maria hit Puerto Rico on Sept. 20 as a Category 4 storm, and it was the strongest hurricane to hit the island in more than 80 years, according to The Boston Globe. That day, Trump tweeted, "Governor @RicardoRossello- We are with you and the people of Puerto Rico. Stay safe! #PRStrong," referencing the Republican governor of Puerto Rico, Ricardo Rossello. OK, so, not off to a bad start, really.
If only he had kept with that tone for the rest of his comments on Puerto Rico.
Sept. 25: Trump Criticizes Puerto Rico For "Massive Debt"
The next time Trump talked about Puerto Rico, it was a few days after the storm had made landfall — and instead of offering inspiration or encouragement, he mostly criticized the island. In a series of tweets, Trump acknowledged that Puerto Rico was in "deep trouble," as a result of its "old electrical grid," and pointed out the fact that the island owed money to Wall Street.
Sept. 26: Trump Says America's "Hearts & Prayers" Are With Puerto Rico
On Sept. 26, Trump thanked the mayor of San Juan, Carmen Yulin Cruz, for her "kind words," and offered prayers for those in Puerto Rico and the United States Virgin Islands. He seemed to make a turn towards positivity with these comments — but nothing good lasts forever, and Trump is nothing if not a wild card when it comes to how he'll respond to something.
Sept. 28: Trump Claims Aid Is "On Site" In Puerto Rico
In his next few comments addressing Puerto Rico, Trump claimed that "massive food and water" had been delivered, but made sure to sneak in a dig at the media about the optics of the situation. "Wish press would treat fairly!" he ended one tweet that evening.
Sept. 29: Trump Notes The "Cost" Of Rebuilding Puerto Rico
Trump tweeted a few more times about Puerto Rico, but one tweet on Sept. 29 had a decidedly critical comment about the island, yet again. It read, "big decisions will have to be made as to the cost of its rebuilding." Which is kind of ridiculous. Would we question whether we should rebuild in Texas after the devastation Hurricane Harvey brought to that state?
Then, after a few more general comments and retweets about Puerto Rico — where Trump thanked the military and FEMA and commented on the relief efforts there in a weekly address — Trump went negative once more.
Sept. 30: Trump Changes His Tune
In a complete turnaround from his earlier comments, on Sept. 30, Trump accused the mayor of San Juan of being "nasty" to him. He then claimed she had "poor leadership ability," and said that she and "others" in Puerto Rico "want everything to be done for them," in the midst of a series of tweets that day.
This led to a huge backlash from public figures — like Lin-Manuel Miranda, the creator of the Broadway musical Hamilton, who has family on the island — and a response from Cruz herself. Cruz responded to Trump on his platform of choice, saying, "The goal is one: saving lives. This is the time to show our 'true colors'. We cannot be distracted by anything else," according to NPR.
Later that same day, Trump also tweeted, "To the people of Puerto Rico: Do not believe the #FakeNews!#PRStrong🇵🇷," which seems like kind of a weird thing to direct the people of Puerto Rico to do, when so many of them still don't even have electricity to watch the "fake news."
Oct. 3: Trump Says Hurricane Maria Wasn't A "Real Catastrophe"
Many of Trump's comments on Puerto Rico were a little toned down after that fiasco. For example, Trump announced that he was going to Puerto Rico, which critics had called for him to do. At one point, he noted that "great people" were doing an "amazing job" there, and he lauded a few other choice representatives of the island in other tweets.
But during his visit to Puerto Rico on Oct. 3, Trump reportedly said things like, "I hate to tell you, Puerto Rico, but you're throwing our budget out of whack," about the island and its people, according to The New York Times. If that wasn't already tone deaf enough, he then went on to say that what happened there as a result of Hurricane Maria wasn't "a real catastrophe," like Hurricane Katrina was.
Listen. You can feel however you want to about Trump and the way he's actually handled what's going on in Puerto Rico. But it's hard to argue that, in general, that his comments on Puerto Rico are becoming of the person who is supposed to offer the people there there encouragement and, frankly, effective and inspiring leadership.
Puerto Rico needs help, not harsh critique. The people there need aid, not critical words about debt that most of them have no control over anyway. It would be nice if Trump would focus on lifting Puerto Rico and its people up, not dragging them down because of his own petty feuds or personal feelings with leaders there.
Watch Romper's new video series, Romper's Doula Diaries:
Check out the entire Romper's Doula Diaries series and other videos on Facebook and the Bustle app across Apple TV, Roku, and Amazon Fire TV.