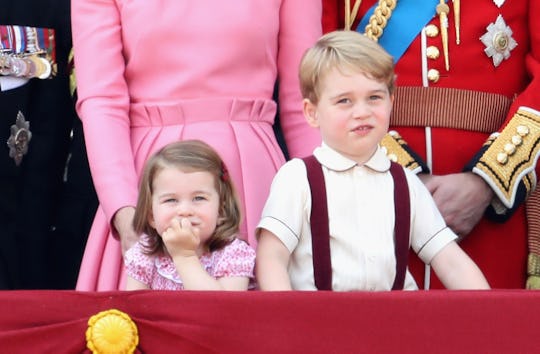 Chris Jackson/Getty Images Entertainment/Getty Images
All Of The Adorable Ways Prince George Is *Such* A First-Born
His brother may be a beyond-adorable newborn, and his sister a sassy, curtseying, scene-stealer, but as the third in line to the British throne, 5-year-old Prince George is definitely the OG next-generation royal. Like his father and grandfather before him, the Duke and Duchess of Cambridge's first child will no doubt be shaped by having the unique responsibility of one day inheriting the throne, but as any first-born will tell you, having younger siblings can also have an effect on who you become. And here are four ways Prince George is totally the oldest child in his family, because you don't have to be a future king for your birth order to be important.
Even if you grow up in the same house, with the same parents, at roughly the same time, chances are there will be at least some pretty significant differences between you and your siblings. And according to psychologists, that can be, in large part, due to where you happen to fall in the family pecking order. After all, while birth order traits are certainly not set in stone, it doesn't exactly seem to be a coincidence that middle children tend to be more rebellious, for example, or that the youngest of the bunch tends to be more coddled.
As for first-borns? Prince George may have enjoyed being the center of attention until his sister, Princess Charlotte, came along. But now that he's the oldest of three, birth order has meant he's had no choice but to become the leader of the pack.
He Takes His Role Seriously
Princess Charlotte has already proven she's nailed the art of being a public figure — the youngster oozes charm, and regularly dazzles in public thanks to her perfectly-timed, over-the-shoulder waves, and adorable grin — but her older brother, Prince George, seems to look at being a royal as much more of a responsibility.
For instance, when the two arrived at the hospital to meet their baby brother, Prince Louis, after his birth in April, shorts-clad George appeared focused and reluctantly reserved in front of the waiting crowd, while Charlotte seemed much more relaxed with all the attention. And it certainly seems to be a pattern the world has seen before: growing up, his first-born dad, Prince William, rarely seemed to make a misstep, while second-born uncle, Prince Harry, felt much more comfortable showing off his cheeky side.
That's not exactly surprising according to birth order research though. According to The Independent, birth order expert, Dr. Kevin Leman, has said that oldest children are "natural leaders, high achievers and can act like mini-adults from a young age" (which likely comes in handy when you're set to be the king).
He's Not Always A Natural In Front Of The Cameras
There's no denying that Prince George has always been super cute, ever since he first made his debut on the steps of the Lindo Wing at St. Mary's Hospital in 2013. But unlike his siblings, who have both already made their marks by hamming it up for the cameras (Prince Louis' candid christening photo is a perfect example, as is, well, pretty much every photo of Princess Charlotte), young George has always maintained a bit of hesitation in front of photographers — sometimes even looking downright grumpy about having lenses pointed in his direction.
Although his recent 5th birthday portrait has shown the young prince showing off his adorable preschooler smile, it's not always clear how he'll respond when he's in the spotlight. And while it's hard to blame him — I'm not so sure I'd enjoy having people trying to take my photograph all the time, and I'm an adult — it does potentially reflect another first-born trait: anxiety. According to The Telegraph, first-born children tend to be influenced by the nervousness of their first-time parents, and that can also translate into being more cautious and reserved.
He Gets All The Major "Firsts"
No matter how exciting Princess Charlotte and Prince Louis' milestones may be, the majority of the time, Prince George will have done them first, and earned the bulk of the glory. Not only did he set the trend for Lindo Wing birth reveals, and royal baby christenings at St. Jame's Palace (sorry, Louis), by the time Princess Charlotte embarked on her first official royal tour in Canada, the Duke and Duchess had already become pros, having taken baby George on a royal tour to New Zealand and Australia in 2014, according to Hello! Magazine.
And when Princess Charlotte posed for her first day of school photos, released January? Prince George had certainly already beat her to it: in 2016, Kensington Palace shared a photo from his first day of Montessori school in Norfolk, and in September 2017, cameras rolled as he arrived with his father at Thomas's Battersea, for his first day of primary school.
And He's Already Begun Entertaining World Leaders
But in what was probably his biggest "first-born" moment yet, Prince George unforgettably helped host President Barack Obama at Kensington Palace in April 2016, showing off his diplomatic prowess — and leaving quite the impression on the president — for doing the whole thing while in his house coat. Prince George was apparently allowed to "stay up late" to welcome Obama to his Kensington Palace home, according to TIME, and photos show the then 2-year-old shaking hands with the former American leader, who along with Prince William, had crouched down to the young prince's level for a very formal presidential hand shake.
The whole thing couldn't have possibly been any cuter, but it seems like no one was more tickled by the meeting than Obama himself. According to The Telegraph, at the White House Correspondents' Dinner a month later, the president joked:
Even some foreign leaders they have been looking ahead, anticipating my departure. Last week Prince George showed up to our meeting in his bath robe. That was a slap in the face. A clear breach of protocol.
It might not be easy to be the 5-year-old heir to the monarchy, but Prince George certainly seems to be taking it all in stride. And while there certainly are drawbacks to being the first-born, in Prince George's case, birth order will likely work very well to set him up for his future responsibilities. So while he's still very young, something tells me he'll totally be ready for the job when it comes his way.