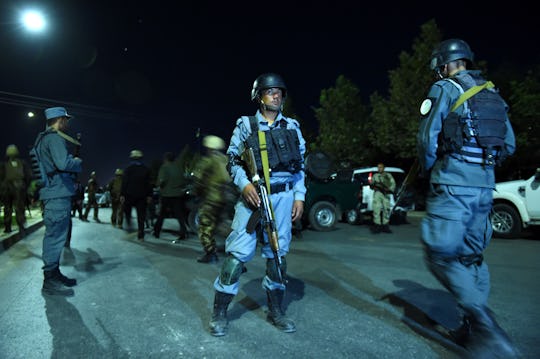 WAKIL KOHSAR/AFP/Getty Images
American University of Afghanistan Attacked By Gunmen, Students Reportedly Trapped
At least one person is dead and several others are wounded after a gunman attacked the American University of Afghanistan Wednesday evening. Although no terrorist group has yet claimed responsibility for the region's most recent atrocity, the Afghan Taliban and a local ISIS offshoot are working to destabilize the country, according to Reuters — and at the university's Kabul campus, the attackers certainly managed to wreak havoc. Witnesses reported having seen students leaping from second-story windows amid gunfire and explosions. Although it has evidently ended, the harrowing ambush, which Kabul's police chief said began with a car bomb, lasted more than an hour.
The suspected militants stormed the campus at around 7 p.m., The Guardian reported, and 24 were wounded, a fatality count that's expected to rise. From the time that the attackers entered, circumventing security and blowing up an outer wall, a devastating situation confronted the possibly hundreds of students and faculty members inside.
"Many students jumped from the second floor, some broke their legs and some hurt their head trying to escape," Abdullah Fahimi, a student who injured his ankle fleeing from the building, told Reuters. "We were in the class when we heard a loud explosion followed by gunfire. It was very close. Some students were crying, others were screaming."
The person who is confirmed to have died was a university guard, according to The Guardian. Those who survived escaped through emergency gates as well as through windows. The elite university that endured another tragedy quite recently — two of its professors, one American and the other Australian are still missing after having been kidnapped from their vehicle earlier this month — had been catapulted into chaos.
Photographer Massoud Hossaini of the Associated Press, wrote in a now-deleted tweet sent from the campus that he was hearing gunshots and explosions, NPR reported, before alerting followers that "this maybe my last tweets."
Miraculously, the Afghan-born Pulitzer Prize-winner did live to recount the gruesome, disturbing details of his experience on campus. When he and his approximately 15 classmates heard an explosion from their classroom, they barricaded themselves inside by pushing chairs and desks against the door, Hossaini told the AP. Still, many of them were injured before Hossaini and other managed to escape through an emergency gate when two grenades were thrown inside.
"As we were running, I saw someone lying on the ground face down, they looked like they had been shot in the back," he said.
It's possible that this person is one of the three that a Kabul Emergency Hospital official told the AP had been "seriously" wounded, likely because they were hit with bullets from an automatic weapon.
For those of us who have never been in a situation like the one that unfolded in Kabul on Wednesday, it's impossible to imagine the horror and the fear that it must have invoked for the victims, those who managed to get away, and people whose family members or friends were trapped inside. The American University of Afghanistan had been striving to be a mecca of learning in a deeply volatile country since its inception in 2006, but the attack challenges that ideal in, literally, the worst possible way.