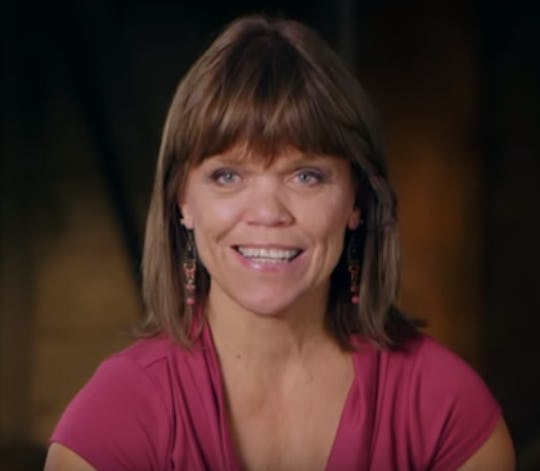 TLC/YouTube
This New Photo Of Amy Roloff's Grandson Jackson Has Fans Riled Up
Amy Roloff from TLC's Little People, Big World is a woman who seems to be enjoying this stage of her life. Her four kids are all grown and appear to be pretty happy, she is navigating her way through a once-painful divorce towards independence. Oh yes, and she has two adorable little grandbabies to hang out with whenever she likes. What's not to love? Well unfortunately for Amy, there are people out there who are dying to rain on her happy little parade. Amy Roloff's new photo with her grandson Jackson has fans all concerned, but perhaps it's time people took a chill pill. Let's not start a new trend of grandma-shaming, OK?
The proud grandma took to Instagram on Tuesday to share a photo of her son Zach's baby with wife Tori, 1-year-old Jackson Roloff. The two looked like they were having a grand old time at Roloff Farms in Hillsboro, Oregon. The pair were apparently doing some farm work together last weekend, as Amy captioned the photo of herself and Jackson smiling away. "What a fun weekend watching Jackson for a little bit," she wrote. "Jackson rode the 'mule' w/ Grandma and we saw daddy working on the tractor. Our little farmer boy!"
I mean... right? So cute and happy. What could be wrong with this picture? Loads of fans didn't see anything to get upset about, they just simply saw a happy woman with her sweet grandson having a nice day out in the sun.
"His cheeks and those beautiful eyes melt my heart!" one fan wrote.
Another chimed in, "AAW! Jackson is such a sweet baby!! God Bless Amy!!"
Not everyone loved the photo, however, voicing that Jackson is supposed to be in a seat belt or a car seat while riding slowly around the farm with his grandmother beside him. Critics took to Amy's Instagram feed to tell her off for supposedly not taking proper care of her grandson.
"Hope Jackson was in a car seat," one fan wrote.
Another said, "He's saying get me in a car seat!!"
"Why is he not in a car seat or strapped in? Very very careless!" yet another wrote.
"Wow...no helmet?" one more commented.
OK, it seems to me like a whole lot of assumptions are being made about this innocent picture of Amy with Jackson. That she has endangered her grandson, that she is wildly riding around the farm at breakneck speed while Jackson flails about precariously, and that he's not belted in to the slow moving farm equipment. What a danger to society at large and babies specifically she truly must be.
Or perhaps not. As one savvy commenter noted when she defended Amy:
The Precious look in his beautiful eyes says it all ... oh how he loves Grandma 💙 FYI for the city folk aka Disney Moms ... you don't use car seats on farm equipment 🤦🏼‍♀️ Some have seat belts some you sit on the adults lap ... it's not a highway nor high rate of speeds ... hop off the post if you're going to be nasty !
Perhaps people need to remember that Amy Roloff managed to raise four children on a farm and they all managed to survive. Maybe she knows a little something about how to take care of kids by now. Also, not to get dragged into the whole debate here, but it looked to me like she and Jackson were sitting still in the "mule," looking on as Jackson's dad Zach did some farm work.
Let's maybe all try to give Amy Roloff, mother of four grown children, the benefit of the doubt when it comes to spending time with her grandbabies, shall we? She might just know what she's doing.